5 Minutes with George Batchoun Founder of NOIZE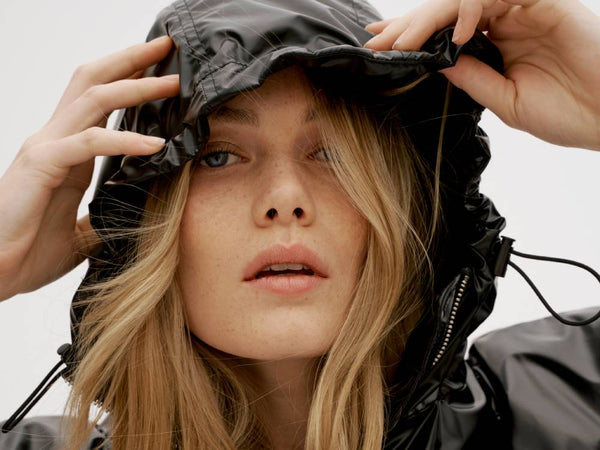 Which is better Canada Goose or Moncler? Neither. If you thought of buying a luxury parka you need to redefine luxury. NOIZE uses innovative technology with their partners at RePET and Repreve their insulation fill is made entirely from reclaimed and repurposed recycled plastic bottles. The parkas are chic and warm and are Peta Approved! Vegan is the new luxury.
Bare Fashion talks to George Batchoun, CEO of NOIZE and fashion entrepreneur, with over 20 years in the fashion industry. After graduating from Concordia University, Batchoun created the StyleXchange fashion boutiques, Strut magazine and NOXS designs, which produces and sells across 10 brands, including NOIZE! 
I bought a NOIZE Parka and I love it. So I want to know more about NOIZE and what's behind the brand. 
George you offer great casual contemporary garments that are surprisingly affordable and vegan. Simple: how do you do that?
BG Insane quantities of drive, hard work, flexibility, compromises and turbulence.
How do you monitor your supply chain?
GB We used to visit often, but in a world without travel, zooms and messaging is critical. Luckily we had many years of developing a trusting working relationship with our supply vendors so we can endure for a few years without actually visiting.
Montreal has great winters, lots of snow and often -12C . Did you wear a parka as a little kid?
GB Of course, every Canadian kid has. Today my son built a fort in our backyard following a 30cm snowfall. As I watch him, I am filled with memories of mine as a kid.
Do you have a favourite winter sport?
GB Hockey. So very Canadian, eh?
From a young age you created StyleXchange  and Strut magazine. Did you always love fashion? Or business?
GB Very much a love for both. It's in our DNA, my father was a garment trader, and I so very much admired his work ethic, his commitment to finding success with integrity, honesty and hard work. Those lessons have endured in my business and I hope to pass down those simple but critical lessons.
NOXS – are any of your other brands sustainable or vegan?
Not fully , but we are committed to that being the case over the next 12-24 months.
You've worked in the fashion industry for over 20 years. What is the biggest change you've seen during this time.
Of course the transformation from a personal to a digital experience across all aspects. From working with internal teams, to working with outside agents or consultants, to engaging our customers and driving our D2C experience. The challenge is creating open and transparent communication channels and streamlining our data in an easy to use and meaningful way.
In your early 20's you were very trend leader with StyleXchange, and now you're in the forefront of sustainable vegan fashion. You've created parka, coats, leisurewear, dog coats and footwear, and even candles – what's next for you?
I guess working towards scaling our brand to get to a level where we can make a significant impact on the choices consumers will make and in turn prevent countless animal sufferings.
Do you have a dog?
Not yet, but we are in the process of adopting one . 
How do you see fashion changing in the next 10 years?
Less frivolous consumerism, less cheap fast fashion, more purposeful consumption, more holding companies accountable for their decisions and products, continued digital landscape with physical stores more as marketing and information centers.
More localized and small niche brands and less of the global behemoths.