7 of our favourite vegan backpacks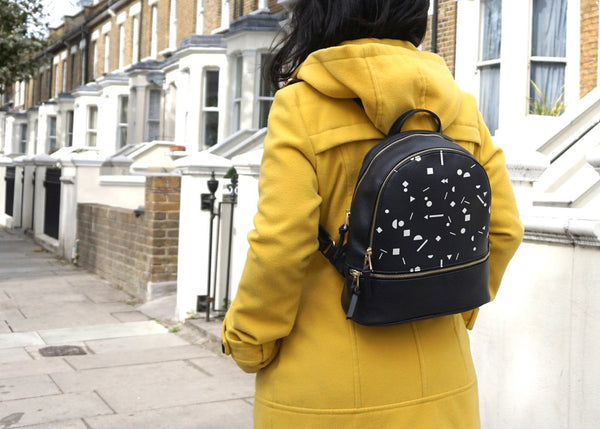 Stuck on what vegan backpacks out there you'd like to put on your Christmas list this year? We're here to help! Here are our 7 favourite vegan backpacks to see you through the autumn and winter seasons...
Ireland's first ever vegan leather company Forester is making these gorgeous vegan leather backpacks that are hand-made and water resistant. The company prides itself on creating "plant-based accessories for a plant-based world" and these backpacks have us craving our next adventure.
RRP £115.04 - Shop here

Something a bit smaller yet still on trend this season in this lovely warm colour, this mini backpack is perfect for style and comfort and comes in a variety of different colours from deep purple to red. The faux-suede material is also a winner with us!
RRP £110 -
Shop here
https://www.instagram.com/p/BqAe6M_A0bg/
This stylish little black backpack designed by artist Mareike Böhmer from Hetty + Sam has a number of handy compartments and adjustable straps for added comfort to keep all of your essentials in for everyday use.
RRP £70 - Shop here
Fjällräven backpacks must be one of the most recognised in the market and this lovely blue backpack from their Kånken range is no exception. This particular style is big enough to fit a 13" laptop case which makes it the perfect companion for away trips with work .
RRP £90 - Shop here
This textured backpack is made using pineapple leaves (Piñatex™) and we think the added texture from this material makes it all the better.
RRP $210 (£164) -
Shop here
https://www.instagram.com/p/BogdJzdnARk/
All backpacks from this brilliant Spanish brand are handcrafted in Valencia, Spain and we are loving them! This vibrant green backpack is definitely perfect for all seasons and the gold clasp at the front makes it stand out from others in the market.
RRP 85€ - Shop here
The second appearance from Matt & Nat, this circular backpack in colour Rio is unusual in shape but perfect in style.
RRP £130 - Shop here
Loving this list? Sign-up here to hear more about vegan fashion and beauty and be the first to hear about ticket releases for our next event…