A vegan footwear brand for children has just launched in the UK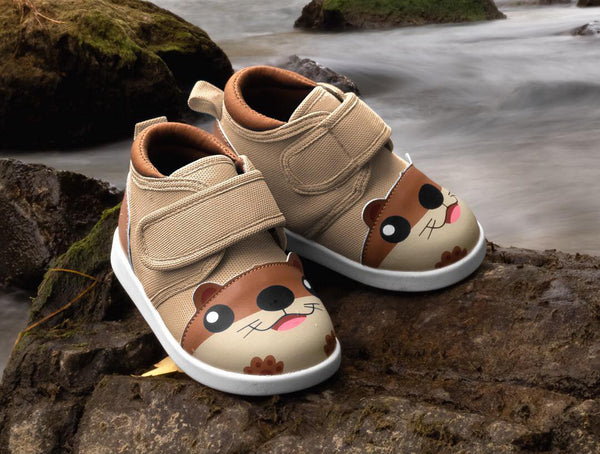 American children's footwear brand ikiki has arrived in the UK to give children ridiculously cute vegan shoes that they will love to wear.
The struggle to find stylish yet functional vegan footwear for children is over as American footwear brand
ikiki
has just launched in the UK.
Not only are ikikis vegan-friendly, they have many benefits for little feet because they squeak when you walk so that parents keep an ear on their children while giving them the freedom to find their feet and explore. The squeak also acts as a great locator for non-verbal children as you can hear them pottering about.
The squeaking mechanism in the sole encourages healthy heel-toe walking and makes walking fun for little ones. If you're worried about being driven up the wall by the noise then fear mot because when you've had enough of the squeak, there is an off switch on each shoe.
They also feature an adjustable single strap that makes them a good fit for both narrow and chubby little feet and have a wide, flexible opening that not only makes them easy to put on but also enables the shoes to fit children with splints or braces.
ikiki shoes are specially designed for little feet and are now available in the UK in children's sizes 3 – 9 with a range of cute character designs to choose from.
Speaking about what motivated her to bring the brand to the UK, Angela Higgins of ikiki UK commented: "When I saw these shoes online, I really wanted them for my daughter, but they were only available in the US. I started speaking to the brand and knew I needed to bring them to the UK to share the ikiki cuteness with other mums like me. "They are really great shoes for little feet and I absolutely loved the designs compared to some of the traditional shoes you get in the UK. My daughter loves her squeaky unicorn shoes and she literally can't wait to put them on each day. It's reassuring to know where she is, as being two, she doesn't stop exploring and playing at home. The squeak makes it a fun activity for her."
Click HERE to get your tickets to Bare Fashion.