Adidas and Stella McCartney team up to create 3D printed vegan trainers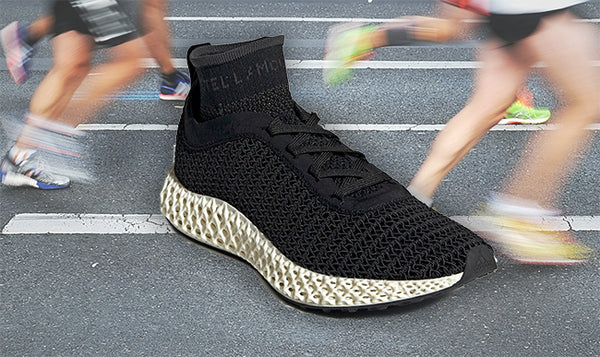 Vegetarian fashion designer Stella McCartney has teamed up with sportswear brand Adidas to create a new high-performance sustainable trainer using 3D printing.
Vegetarian fashion designer Stella McCartney has long been recognised for her consideration of animals and the environment. Previously, she participated in ocean clean-up events and has
used plastic
collected in her clothing lines. Last July, the Luxury Institute's 'Emotionally Intelligent Brand Index' named her brand the 'kindest in luxury fashion'. The designer has been working on a number of projects with sportswear brand
Adidas
, and the duo recently teamed up to create a range of
sustainable vegan-friendly sportswear
as well as collaborating to create a
Stan Smith sneaker
made of vegan leather.
Continuing its mission to create sustainable footwear that pushes the boundaries, Adidas has teamed up with US-based company
Carbon
to use Futurecraft 4D technology to create a pair of trainers using 3D printing methods. Designer Stella McCartney has been enlisted to help create the design and silhouette of the shoe. According to
3D Printing Industry
, Adidas has challenged itself to create the trainers using 3D printing methods to ensure its designs are the best they can be in terms of performance and comfort. The website notes: "Futurecraft 4D is made using the running data of athletes to map out the optimal parts of the midsole to provide cushioning and support."
The limited edition Stella McCartney x Adidas AlphaEdge 4D shoe will launch in April with an expected retail price of $350-$450 USD.
Click HERE to get your tickets to Bare Fashion.
Image credit: Adidas