Adidas has collaborated with the Beastie Boys to release vegan sneakers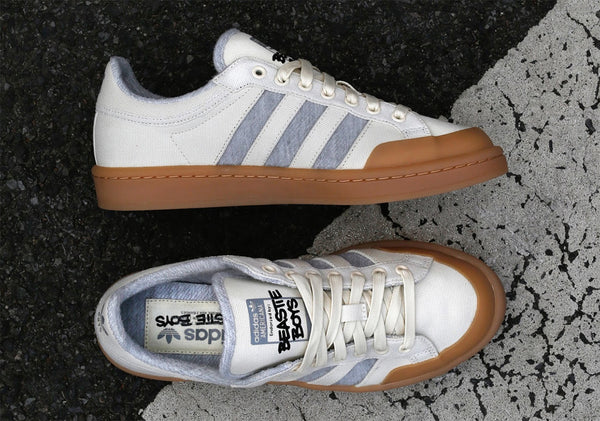 Beastie Boys are celebrating the 30th anniversary of their second album by collaborating with Adidas to create completely vegan sneakers.
American hip hop group Beastie Boys is celebrating the 30th anniversary of their album, Paul's Boutique, with a collaboration with
Adidas.
The collaboration is perhaps inspired by the song "Shadrach," the 13th song on the Beastie Boys'
Paul's Boutique
, in which one of the founding members, Mike D, raps: "More Adidas sneakers than a plumber's got pliers." Now the band is releasing their very own limited-edition Adidas sneaker, and it's completely vegan. Band members Michael Diamond and Adam Horovitz worked closely with Adidas to design the sneakers which feature vegan canvas with a light grey cotton jersey liner and the
Check Your Head
-era, Eric Haze-designed Beastie Boys logo stamped on the tongue and inside the shoe. According to a post shared on the Beastie Boy's
Instagram page
, proceeds from the collaboration will go to two charities: PEACE Sisters and Little Kids Rock.
Image credit: @beyondthestreetsart/Instagram
Speaking to Fast Company, Horovitz said; "We just started talking with a couple of their design guys about different ideas for what we could do to the sneaker, and Mike and I were talking about the stripes, and what if they were cut out and you could see through the shoe. "Then we thought it'd be cool if it was like a sweatshirt on the inside, like a sweatshirt for your feet, and you could see the inside from the outside. That's our twist." Cullen Poythress of Adidas Skateboarding added: "Few artists showcase the confluence of so many different elements of '80s and '90s subculture better than Beastie Boys. "They represent skateboarding. They represent graffiti. They represent hardcore punk. They represent hip-hop. And they represent street fashion and style." The vegan sneakers retail for $85 and will be available at select skate shops across North America.
Sign-up here to hear more about vegan fashion and beauty and be the first to hear about ticket releases for our next event…
Click HERE to get your tickets to Bare Fashion.