Aldi launch new budget vegan trainers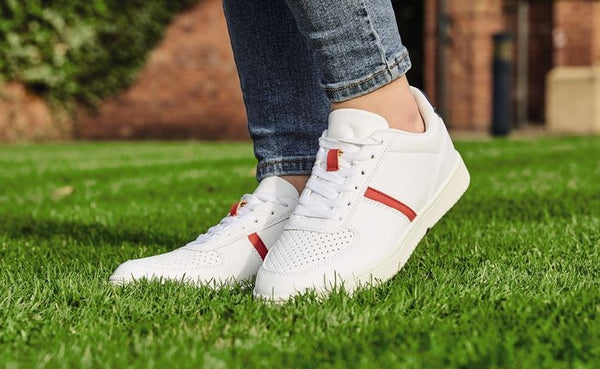 It's that time of year again. Veganuary is now in full swing, encouraging people across the world to cut animal products from their diets, their makeup bags and their wardrobes. For those unfamiliar with the veeg lifestyle, the month can present many unexpected challenges. The slim pickings on some restaurant menus, the animal-based products in their bathroom cabinets and, quite commonly, the high price of vegan fashion.
Aldi have come to the rescue though, launching a brand new pair of vegan trainers in celebration of Veganuary. The best part? They're only £12.99!
The trainers are Vegan society approved and certified, and have a padded collar and insock for extra comfort. Both sleek and on-trend, the new trainers are available in white with two designs – green heel or red stripe. Don't let the low price tag worry you at all, these trainers are far from fast fashion as they're built to last. The upper lip of the trainers is made from synthetic PU vegan leather, while the sole is made from TPR — a lightweight manmade rubber that's weather resistant and super durable.
When browsing the market for vegan trainers, comparatively Aldi's can save savvy shopper an insane 94.47%. The trainers
hit stores on 2 January
, but eco warriors need to run, not walk, to their local stores as quickly as possible, because as with all Specialbuys – once they're gone, they're gone!
Sign-up here to hear more about vegan fashion and beauty and be the first to hear about ticket releases for our next event…