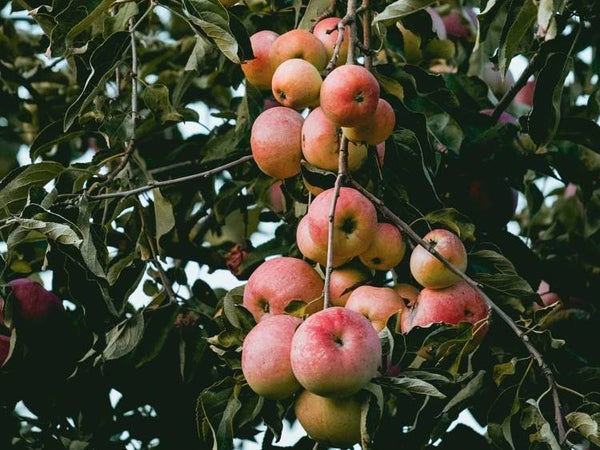 Apple leather is one of the most innovative leather alternatives. The ability to create something new and unique from left over fruit products is incredible. 
Being able to make a wearable item out of apple remains, that you are about to throw in the compost is a fantastic idea.
The idea of apple leather was created in 2004 by Alberto Volcan, an Italian inventor. He was interested in using leftover apple waste from the bustling apple industry in Northern Italy. One of the first things he attempted to create was vegetable glue. That project was not successful, but remade the glue so that it could be put through a pasta machine. The final product turned out to be the beginning of apple leather!
The production of apple leather continues to be in Northern Italy. The first step is to turn the apple waste into powder. After this, it is sent to a factory where a combination of the resulting powder and polyurethane is combined and spread on a polyester and cotton canvas. The result is an amazing leather alternative.
The biggest innovator of apple leather is Frumat. The company is based out of Northern Italy and creates the final product. Frumat produces apple leather for both the furnishing and fashion industries. The softer version of apple leather is used for fashion, while the thicker version is used for furniture. They also produce paper made out of apples. They are the innovators in apple leather.
Many designers are using apple leather to create clothing and accessories. Veerah has created a luxurious pair of clue heels made from 50% apple fibre. Samara produces a mini purse made exclusively from apple leather. The mini purse is designed with a single piece of Apple Leather, the material is folded carefully and held together with a single brass clasp. Good Guys Don't Wear Leather is experimenting with products made from apple leather. The products that these companies and other make out of apple leather are astonishing and I cannot wait to get my hands on one of these apple leather products.
Written by Thomas Campbell