Win So Eco cruelty-free brushes!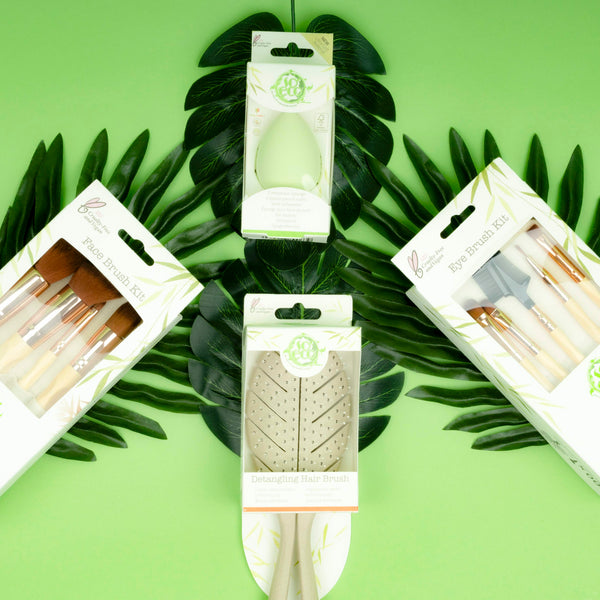 So Eco is a range of PETA accredited, cruelty free and vegan products which place a unique emphasis on components being responsibly and ethically sourced. The range includes makeup brushes, bath products and hair brushes. The brand is also an official partner of Tree Nation, planting a tree for every hundred products sold!
Now So Eco has teamed up with Bare Fashion to give away prize bundles to three lucky winners! The prizes consist of:
The So Eco Complexion Sponge; an eco-friendly sponge made from latex-based foam, specially designed for the flawless application of cream and liquid makeup and seamless blending.
The So Eco Eye Kit; a five-piece collection of planet-friendly, cruelty-free makeup brushes. The kit includes; a Fine Liner Brush, a Large Eye Shading Brush, Small Eye Shading Brush, Flat Eyeliner Brush, and Lash & Brow Comb.
The So Eco Detangling Leaf Hair Brush; specially designed for gently unpicking knots and tangles, suitable for wet and dry hair.
The So Eco Face Kit; a four-piece collection of makeup brushes made from eco-friendly sources and materials. The kit includes; an Angled Contour Brush, a Tapered Blending Brush, a Round Foundation Brush, and a Lip Brush.
To be in with the chance of winning one of these three bundles worth £50 click the link below.
Bare Fashion So Eco Giveaway!
Sign-up here to hear more about vegan fashion and beauty and be the first to hear about ticket releases for our next event…