Benedict Cumberbatch turns heads at the Met Gala in vegan bamboo suit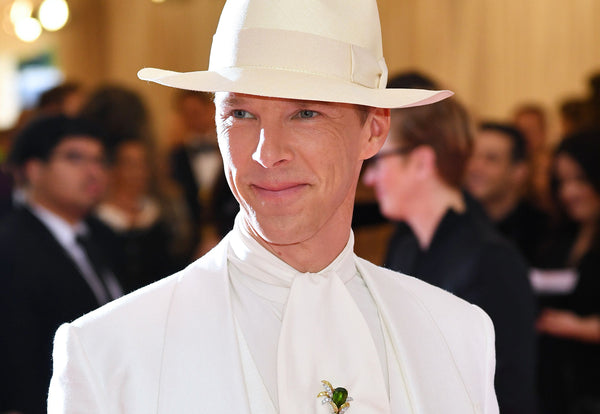 Vegan actor Benedict Cumberbatch turned heads at this year's Met Gala thanks to his eye-catching ensemble which was made from vegan fabrics.
British actor Benedict Cumberbatch, who is best known for his roles in
Sherlock
and
Doctor Strange
turned heads at this year's Met Gala in an all-vegan suit made with bamboo and "peace silk". The actor, who
went vegan last year
, attended this year's Met Gala, an annual fundraising event for the benefit of the Metropolitan Museum of Art's Costume Institute in New York, which asks those in attendance to choose an outfit befitting the chosen theme - this year's dress code was "camp". According to the
Daily Mail
, when Cumberbatch arrived at the event he "eclipsed some of the biggest names in fashion," thanks to his eye-catching yet compassionate attire. Speaking to the
media outlet
, Cumberbatch's stylist of ten years, Joe Woolfe, explained how he worked for weeks on the design of the ensemble. "We spent ages talking about it and planning it for about three weeks before he flew to the U.S. "He's vegan, so that meant there were a lot of fabrics we couldn't use. We ended up using an amazing English bamboo fabric from Huddersfield Fine Worsteds," Woolfe revealed.
Peace silk
Discussing the silk used to make Cumberbatch's shirt, Woolfe said, "It was silk, but peace silk, which doesn't involve killing the worms, so it's fully vegan and cruelty-free." "I had to get a few for him to choose from, because I know what he's like, and if I just give him one thing he'll feel like he's being cornered. But he always ends up choosing what I offered first!" he said. Peace silk is so-called because rather than being boiled alive, the silkworm is allowed to escape its cocoon unharmed. However, whilst Woolfe describes "peace silk" as being vegan and cruelty-free, animal activists consider
peace silk
to be as inhumane as conventional silk as silk farms have a limited supply of food and are unable to feed all the hatchlings. This means that whilst the silkworm moths have emerged safely from their cocoons and will be able to die naturally, the majority of their offspring will die from starvation or dehydration shortly after birth.
Feathers
Kylie and her sister Kendall came under fire from animal rights group PETA last week who slammed the stars for choosing to wear outfits covered in thousands of bird feathers at the Met Gala.
©StarMaxInc.com
PETA urged the stars to consider learning more about where their fashion really comes from, saying: "The fashion world now knows how cruel it is to wear dead animals' fur, but as far as we can tell—with everyone trying to look like Big Bird at the gala—it's still ignorant about where feathers for those gaudy outfits come from. "Those feathers once belonged to living, feeling animals and were ripped out of their bodies, which were left bloody, broken, and destroyed."
Click HERE to get your tickets to Bare Fashion.