Canadian company create 100% waterproof vegan shoes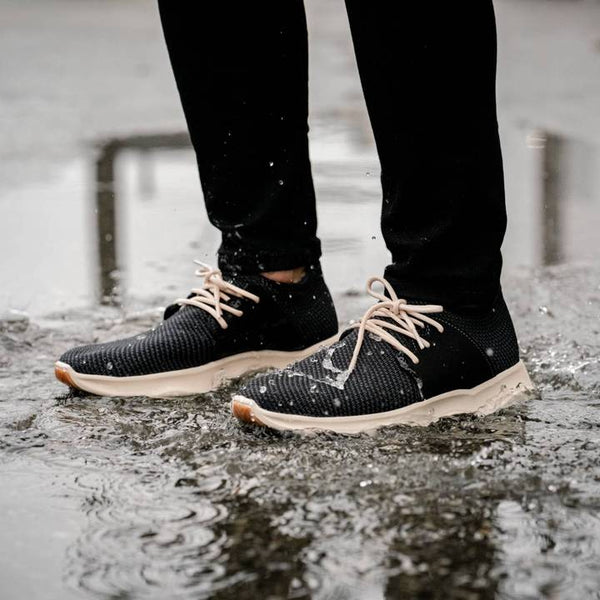 Spring is fast approaching and we all know what that means... Rain. Lots of it. Sloshing through puddles on your way to work, or committing yourself to a run when it's pouring down outside can be such a hassle, especially if you don't have the right footwear.
Luckily though, Canadian company Vessi are here to help. Using cutting edge design techniques, they've created a shoe that's sleek, stylish, and 100% waterproof. And the best part? They're also 100% vegan!
How do these revolutionary shoes retain their waterproofing properties without relying on traditional animal-based materials such as leather? They're crafted with a membrane layer packed with millions of minuscule holes. Water vapour can pass through (in the form of sweat) but water molecules are too big to pass through. This means a pair of Vessi's shoes retain their waterproofing wear after wear, indefinitely.
If that wasn't enough of a draw, Vessi have also been as eco-conscious as possible with the design and manufacture of their shoes. Not only have water-based adhesives been used in the place of animal-based glues, but each pair is made using 30% less water overall, as well as 97% less trimmed waste material than most other shoes. The reduction in waste is achieved by creating a 3D tubular knitted upper, rather than using the conventional practice of cutting the upper out of a piece of material that typically generates 30-40% waste. When taking all of these production methods into account, the carbon footprint of each pair of Vessi shoes is reduced by a whopping 600%. Vessi stock both
women's and men's shoes
in a variety of different styles and colours, making them a slick and practical addition to any shoe rack or spring look.
Sign-up here to hear more about vegan fashion and beauty and be the first to hear about ticket releases for our next event…