Cardi B is launching a vegan leather fashion range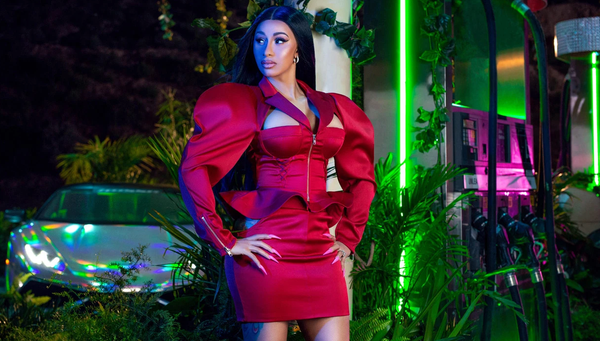 American rap artist Cardi B has collaborated with Fashion Nova to create an affordable fashion range featuring corsets, high-shine latex, and vegan leather.
American rap artist Cardi B has teamed up with online fashion retailer
Fashion Nova
to create an affordable fashion range featuring vegan leather. Drawing inspiration from the 80s and 90s, the Grammy Award-winning rapper's new fashion line focuses on "classic boudoir" styles that are "balanced with themes of empowerment and rebellion," according to a press release. The affordable
Fashion Nova x Cardi B
range, which features pieces priced between $29 and $99, is comprised of 47 looks and 107 pieces which can fit sizes up 3X.
The Fashion Nova x Cardi B range features a range of sultry fashion pieces such as corsets made with vegan leather and latex pieces for those looking for "hyper shine wet looks." Speaking to media outlet
ET
about the collaboration, Cardi B said: "This one is different than the first because we have more color. We have more cutouts, it's more fun. It's more summertime, but it also has that Matrix look that I like. "I study what people want," she added. "I read what some of the pros and some of the cons
of my last collection … so it's like, OK, it's going to be a little more fun. More summertime vibes. And I think people are going to like this one."
Fur
Although the singer will be using vegan leather to create the pieces in the range, she is well-known for her love of fur clothing and is regularly pictured wearing hats and coats made from real animal fur. Cardi B faced criticism after she wore a fur coat at Beautycon in April. Taking to Instagram to respond to the backlash, the rapper's stylist Kollin Carter wrote: "I've been called a n— and gotten death threats because I chose to put my client in fur …. ridiculous."
Taking to Twitter after the event, People for the Ethical Treatment of Animals (PETA) posted: "Fur is never okurrrr @Cardib" next to a photo of her in the coat next to a fox captioned, "Who wore it Better?" Cardi B was also recently pictured at the Met Gala in a dress covered in over 30,000 coque feathers, prompting PETA to point out that wearing feathers is just as cruel as fur. "Those feathers once belonged to living, feeling animals and were ripped out of their bodies, which were left bloody, broken, and destroyed," they wrote. Fur has been rapidly falling out of fashion with designers in recent years with big brands such as Yoox Net-a-Porter Group, Gucci, Michael Kors, Versace, Burberry, Donna Karan, Coach, Chanel, Jean Paul Gautier and Jimmy Choo all turning their backs on fur.

Fashion Nova x Cardi B is set to launch on May 8 and will be available to purchase online.
Click HERE to get your tickets to Bare Fashion.
Image credit: Cardi B x Fashion Nova