Cariuma carbon neutral shoes made from sugarcane and cork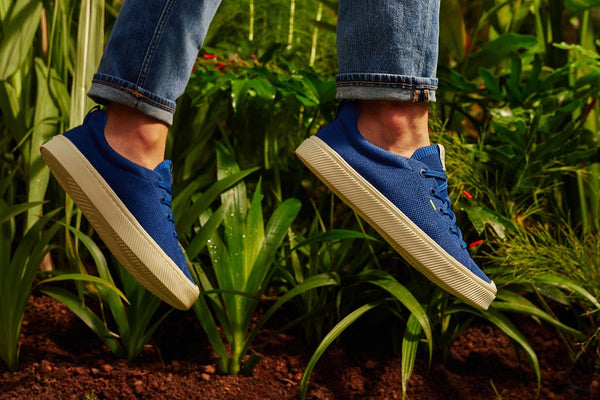 It's easy to look at a finished product, a simple pair of shoes, and forget the hundreds of tiny steps it took to create them. Typically crafting a pair of sneakers takes an average of 360 processing steps; from the harvest and refinement of the raw materials, through the strenuous design process, right up to the distribution. It's also important to remember that each of these little steps comes with their own environmental impact: that's why producing a new pair of sneakers generates, on average, 30 pounds of CO2 emissions.
Brazil-based sneaker brand Cariuma
are setting out to do things differently. Through simplifying their design and utilising sustainable materials, not only have the company minimised the carbon footprint of the shoe, but they've also offset the remaining footprint, making the sneakers carbon neutral.
The Cariuma IBI is the peak of sustainable innovation. They've chosen to work with sustainable materials such as bamboo, which sequesters carbon, making it carbon neutral as a material. When bamboo is harvested, it also doesn't kill the plant, which continues to grow and sequester more carbon. Beyond that, they've developed a new process for working with the bamboo; turning it to powdered charcoal and then mixing that powder with recycled PET plastic, creating a yarn strong enough to make the shoes.
They also work with sugarcane, which replaces the use of petrochemical-based foam in the sole of the shoes. The sugarcane instead captures around two tons of carbon dioxide for every pari of shoe soles made. The insoles are made from loose, flexible cork.
Cariuma not only sources only the best raw materials, but also works to ensure that their craftspeople are paid fair wages and have safe working conditions.
As with other shoes that are knit, using yarn instead of larger pieces of fabric reduces waste. The shoe's upper is made from only three pieces, making the manufacturing process simpler than a traditional shoe and saving energy. Any remaining emissions, including the emissions from shipping the product to customers, are offset through projects including protecting part of the Amazon rainforest. Fernando Porto, Cariuma's Brazil-based cofounder and chief creative officer explains that other brands "are mostly huge corporations with massive production that are not really focused on caring about the environment as a whole or even best practices for people involved . . . in mass production. For us, it became clear that our angle would be trying to bring the only sneaker brand that would be good-looking, crazy comfortable, and consciously made."
The Cariuma IBI comes in eight colours -- Off White, Black, Stone Grey, Mineral Blue, Raw Red, Sun Yellow, Sand Beige, and Rose -- are 100% vegan, and are available in men's and women's sizes.
Click here to read about more eco-friendly, vegan shoes