Converse launches sneaker range made from recycled plastics and denim jeans from landfill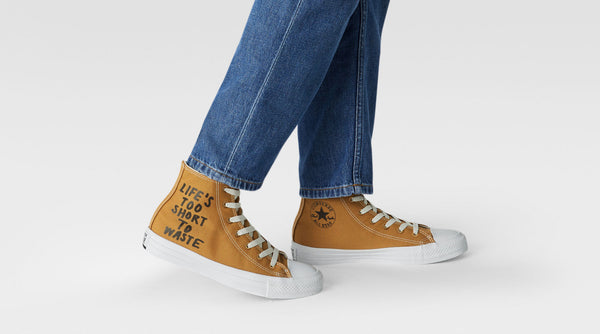 Sneaker company Converse has launched a new range of shoes made from recycled and sustainable materials - Converse Renew.
Converse has launched a new range of shoes made from recycled and sustainable materials such as plastic bottles and clothes discarded in landfills -
Converse Renew
. The eco-friendly collection sees the company release classic Chuck Taylor All Stars and Chuck 70s styles, with an eco-twist. Converse Renew Canvas shoes are made entirely from recycled polyester derived from used plastic bottles sourced from developing countries, a
popular trend
that many shoe manufacturers are keen to explore. Later this summer, Converse will release another collection as part of the Renew range - Renew Denim. These styles will be made using denim jeans saved from landfills and will be available to purchase from August.
The brand has big plans for the range as it has been working on yet another collection to add to the renewable range, Renew Cotton, a range crafted from cotton canvas waste left behind after the manufacturing process to create a composite 40 percent recycled cotton with polyester to form a new yarn. According to the company: "We're turning discarded materials into the world's most iconic and loved sneaker. Touch it, feel it, wear it – we bet you won't know the difference. Except that you'll look good – and feel good – knowing you're giving waste a second life. Available in colors inspired by nature, it's the same Chucks spirit, bottled."
Converse Renew Canvas is available to purchase from www.converse.com, www.office.co.uk and www.schuh.co.uk
Sign-up here to hear more about vegan fashion and beauty and be the first to hear about ticket releases for our next event…
Click HERE to get your tickets to Bare Fashion.
Image credit: Converse