Discover washable kraft paper - the vegan leather alternative for fashion accessories and crafts!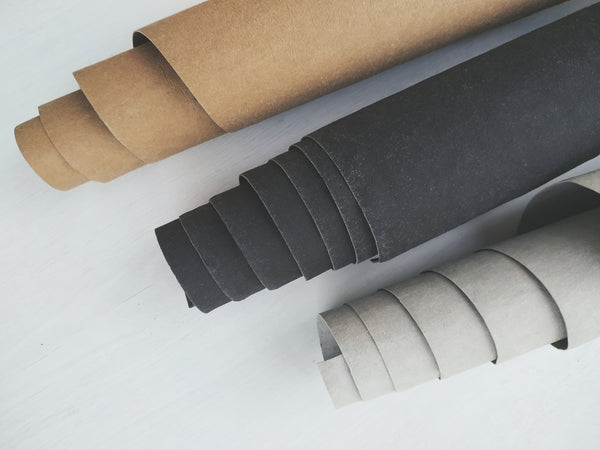 Pinatex and mushroom leather have been hitting the headlines as consumers and fashion brands increasingly seek out sustainable and eco-friendly alternatives to animal leather, but there's a new kid on the block that you might not have heard of yet - washable kraft paper.
Written by WASHALA, an eco-friendly fashion brand who make a range of stylish and sustainable accessories from Washable Kraft Paper.
Along with not only mushroom leather, pinatex and cork, kraft paper also forms part of the constantly growing vegan leather alternatives available to the devastating animal leather industry.
Washable Kraft Paper contains synthetic latex which makes it not only durable but flexible as well. It does not deform in water, and it does not discolour or dissolve, and it is sewable!
The big challenge when you work with this material is that contrary to most of the standard fabrics, when you make a mistake when sewing, you will unlikely be able to cut the thread and start again. This is because the holes made by the needle will remain visible.
However at WASHALA we think that this characteristic of the paper is also the beauty of it. It makes us accept the imperfections and learn to love them! We do not throw any pieces or scraps away as we are a zero waste company. We learn to work at a slow pace, minimising the "errors" and enjoying what we are doing. That way each item that a customer purchases goes to them charged with positive energy.
Washable Kraft Paper has many different finishes but the main ones that we like to work with are the following:
Standard
The classic version of this paper looks just like thicker paper and is ideal for labels, printing or laminating. When washed it becomes wrinkled and shrinks slightly. Over time and after being washed many times it starts to look like our next finish: aged.
Aged
The aged version looks more like leather than the Standard one due to the fact that it has been washed already and features beautiful wrinkles. Its touch is similar to suede.
Shiny
The Shiny version of the Washable Kraft Paper has all the characteristics of the aged one, but with an extra bright reflection. This makes it to be the most similar to leather that we have had the pleasure to work with and it also is our client's favourite.
This paper is about 0,55 mm thick and it comes in 9 basic natural colours: white, stone, sahara, sierra, gobi, taiga, brown, chocolate and black. These serve as base for making the more vivid colours.
Its composition varies depending on the type of paper, the Standard and most planet-friendly version is made of the following:
90% cellulose fiber
5% latex
4% water
1% dyes, chemicals and others
The Kraft Paper that WASHALA uses in production is Oeko-Tex and Forest Stewardship Council (SCS) certified - awarded to timber forest products. We make sure that we only work with paper made in Europe (Italy or Germany so far). It does not contain pentachlorophenol, PVC or BPA and is completely safe for the environment and us.
Since we discovered Washable Kraft Paper we have not stopped designing in our heads as you can literally use it for everything you can think of, from fashion accessories to home decor and office stationery among others. The fashion industry needs a big change and we believe that Washable Kraft paper will have its say in this process."
Sign-up here to hear more about vegan fashion and beauty and be the first to hear about ticket releases for our next event…
Click HERE to get your tickets to Bare Fashion.