Dutch footwear company launches sustainable vegan pineapple leather trainers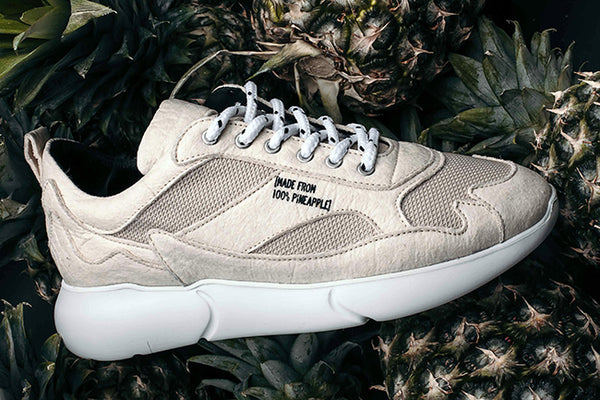 Dutch footwear brand Mercer Amsterdam has just launched its first ever eco-friendly vegan sneaker made using pineapple leather.
Dutch footwear brand Mercer Amsterdam brand has teamed up with pineapple leather experts Piñatex to use its cruelty-free and
sustainably sourced leather alternative
which has become increasingly popular in recent years thanks to the growing demand for eco-friendly, animal-free clothing from consumers. Explained the eco-credentials of the fruit-based material on its website, Mercer Amsterdam
states
: "Pinatex is made from the fibre from the leaves of the pineapple plant. These leaves are discarded from the pineapple harvest, so the raw material requires no additional environmental resources to produce. Additionally, the tanning of Piñatex® consumes low water use and low production waste, containing no harmful chemicals or animal products." In order to find the perfect eco-friendly animal-free material to create the trainers, the brand experimented with a range of innovative materials to find the perfect eco-friendly animal-free material to create the trainers. Founder Pim Dresen explained that at the moment, pinepaple leather is the best for use in footwear, saying: "We tried for a long time, we tested mango and strawberry skin, but it did not go well. Then we discovered Piñatex, which offered an amazing material ready for use and tested. In addition, we love pineapples." In order to keep your feet cool and comfortable, the brand has lined the trainers with a 100% breathable microfiber textile to give the sensation of real leather with thermal control for optimal comfort.
Click HERE to get your tickets to Bare Fashion.