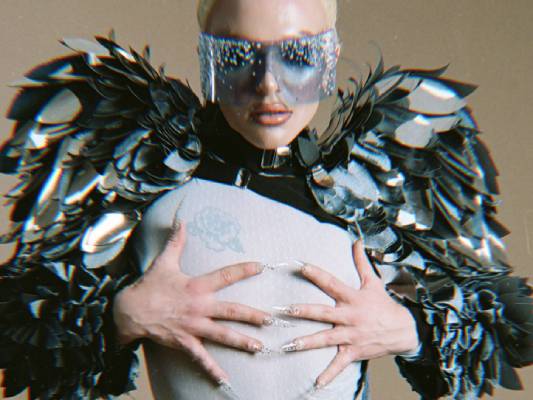 Sustainable Fashion Dylan Joel talks about his SS21Collection: In his own words:
My favourite film is Spirited Away. I love eccentric nature of the film and the style in which the cartoons are drawn. Very exaggerated and over the top which is reflected in some elements in the collection. Spirited away takes you to a fantasy world, almost like a euphoric journey. 
When I was younger I wanted to be a pop star. I was always fascinated with the glamorous idea of being on stage. When I was about 12 I felt that I was more interested in fashion and that I could still work within that industry I was so fascinated with. 
I remember one of the first pieces I was so excited to buy was a pair of camo print cargo trousers. I would probably still wear them today. I have always been conscious about fashion and buying pieces to last. I'm a firm believer that fashion should last and you should hold onto pieces as trends dip in and out.
The fashion industry is one of the biggest contributors of waste and pollution in the world. I wanted to change my design process and change the way I made clothes. Although I am still a small emerging brand, I want to develop my design style sustainability as much as I can and continue like that. No animal products. Only faux leather. The denim was sourced in charity and vintage shops and the mesh fabric was sourced at a shop in London which produces the fabric ethically.
I love anything that sparkles. I'm often referred to as a magpie. I grew up watching my grandmother knitting and she had taught me a few things about it. One of my biggest inspirations is my mother, she is the light of any room she enters. She has such a glamorous style and looks so put together. I take after her in regards to being a magpie, she is always wearing sequins and colourful pieces. She has really inspired a lot of the work that I do.
My personal style is quite the opposite to my design style, I'm very unstated. A biker jacket, trousers and a simple T-shirt....all black of course. I love having my brand to showcase apart of my soul, explore the sides of art and culture.
Bio: Dylan Joel
Completing a national diploma at Glasgow Clyde College in 2015. The same year he moved to London to study BA Fashion Design Womenswear at London College of Fashion and graduated in 2018. Completing several projects throughout the course and selected one of the winners of the H&MxLCF Sustainability project and had work shown in the H&M Oxford Street store.
Also gaining experience working with Coast in 2015 along side Gareth Pugh 2017 for his A/W17 collection and along side David Koma in 2018 for his S/S19 collection. ​
In 2018 Dylan began working in his own studio and started working with celebrities and creating his own collections. Recently in 2020, Dylan Joel has been making and selling face masks for the #BlackLivesMatter movement and donating 100% of the proceeds to Race Equality First.
Photography by Darren Black