Fashion with compassion: Discover the hottest vegan fashion and beauty brands at Bare Fashion 2019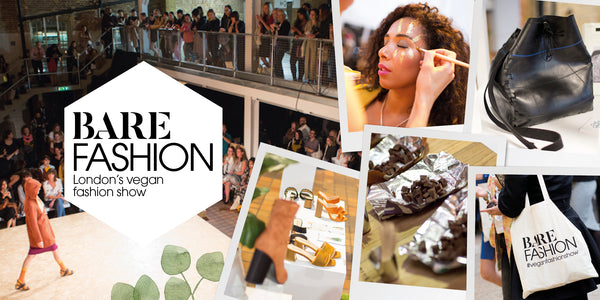 Bare Fashion will once again be a one-stop-shop for you to discover and buy vegan-friendly and ethically conscious fashion and beauty items all under one roof. You'll discover new brands and products and have the chance to embark on a full-on shopping spree to help you live your vegan lifestyle to the full. There is an ever-growing choice in vegan and sustainable fashion and we want to bring you a lovely selection so that you can create your perfect conscious capsule wardrobe. A few of the items and brands at this year's show include bamboo silk shirts from
Artisara
, organic cotton dresses by
Mahla Clothing
, men's streetwear by
Piilgrim
, shoes by
Blanlac
and
Koi Footwear
, bags from Story 81 and
Fabrikk
and even a choice of sustainable underwear! Of course it's key that our skincare reflects our morals and ethics too - come and find the best skincare choices for you. From
skyn ICELAND
to
Made By Coopers
, there are skincare products to suit anyone and everyone.
Vegan Catwalk
This year we will be bringing you 30 looks from high street to high end. Our catwalk models looks will be brought together with make-up and hair styled by
Paul Mitchell
- a company that has been cruelty-free and had a range of salon standard vegan products since the 1980's. The catwalk show will take place twice during the day so you won't miss it.

Vegan Fashion Panel
Marta Canga
Our very own Vegan Fashion Panel of speakers will be hosted by Marta Canga, a vegan fashion and sustainable fashion influencer and blogger. In addition to Marta's firm ethical beliefs, she is also a believer in style over trends.
Kay Lovelle
Vegan Fashion activist, passionate about Bio Fabrication - she keeps up to date with sustainable vegan-friendly products and the designers using them.
Sascha Camilli
Author of Vegan Style: Your Plant Based Guide to Fashion, Beauty, Home & Travel and Editor-In-Chief of online vegan magazine Vilda - Luxe Vegan Living.
Vegan Beauty Panel
@VeganBeautyGirl
To complement our Fashion Panel, we have the Vegan Beauty Panel. There is no one more qualified for this than @veganbeautygirl Nicole.
Em-J
Renowned make-up artist Em-J has worked on London and Paris Fashion Weeks and with many famous photographers including Rankin. She is famed for her strong morals and zero tolerance to animal cruelty, reflected by her entirely cruelty-free and vegan kit. Em-J will demonstrate live makeovers, talk through top tips and techniques, while discussing with Nicole about what to look for in eco-friendly products.
VIP Experience
Enhance your Bare Fashion experience further with a VIP ticket, available today for only £40 in our Early Bird offer. A VIP ticket includes a slice of
One Planet Pizza
, a complimentary
Rosehip Spritz
from Sacred Spirits, unlimited
Miiro Ice Cream
and a goodie bag worth over £50! PLUS you'll receive entry to the VIP lounge area and queue jumping.
---
Make sure you get your tickets to Bare Fashion to save £5 off standard entry tickets and £10 off VIP tickets.
Tickets:
Early Bird £15 / Standard ticket £20 – VIP Early Bird Package £40 / VIP Package £50
Date:
Saturday 10th August 2019
Time:
11am – 6pm
Venue:
Old Truman Brewery, 85 Brick Lane, London E1 6QR