If the Shoe Fits: Beyond Skin with Natalie Dean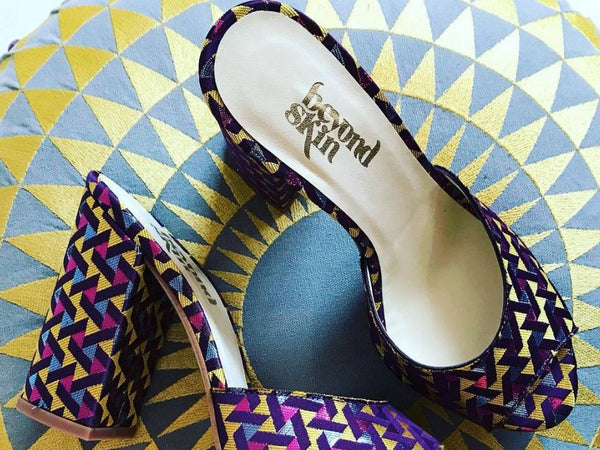 UK Brighton-based footwear brand Beyond Skin was created in 2001, when most of weren't even dreaming of vegan shoes. Founder Natalie Dean while transitioning from a vegetarian to a vegan diet hoped for cruelty free lifestyle that included vegan shoes. She wasn't able to find her perfect beautiful vegan shoes but having worked in the fashion and music industry as a make-up artist Natalie knew she could successfully find a way to combine her fashion aesthetics and ethics to create her own shoes! Beyond Skin is designed in the UK and made in Spain. Over the years they have created a dedicated cult following including celebrities like Miley Cyrus, Anne Hathaway and Natalie Portman at the Golden Globes, the Oscars, and in her movie V for Vendetta.
In her own words: Natalie Dean, Founder Beyond Skin

We have been incredibly fortunate to have been around for almost 20 years and during this time have seen veganism and green issues move further up the agenda as more people choose to adopt more ethical, sustainable lifestyles.

In the beginning, finding high quality leather alternatives and other sustainable materials was one of our biggest challenges. Nowadays due to the tremendous advances in sustainable materials, this is no longer an issue. 
Like many small businesses we have had our fair share of challenges, particularly in the early days.  We were way before our time, which made life slightly harder as we had to literally forge out a new market.

Back then the most popular misconceptions of faux leather was that it was not breathable, not eco-friendly and cheap (in fact, contrary to popular belief many Italian-made faux leather and suedes cost considerably more than most leather skins).  


Nowadays most animal skins are super cheap as they are mostly sourced from low income countries where regulations regarding leather production, effluent and environmental policies are virtually non-existent. Back then, prior to social media, it was key to gain good relationships with the press in order to open and raise the issues around ethical fashion. We knew we had to challenge and contribute to breaking down the stereotypes around what it meant to be vegan as most of them were very misleading. This helped us strike a balance between being an ethical vegan brand and being a luxury fashion brand.
Although many people nowadays understand the concept of veganism, there has always been a residual amount of stigma of what being 'vegan' implies, this is thankfully now fast changing and the vegan marketplace has exploded. Social media has been paramount to this.

There are now a vast array of talented, pioneering new businesses exploiting this new market and talented new designers leaving university with a greater awareness of environmental issues. These are all contributing to breaking the stereotypes and expectations of what this earnest demographic usually looks like, and proving fashion and ethics can go hand in hand.


Thankfully most of us are aware that it is simply not sustainable to continue consuming at the rate that we are, so hopefully change will be inevitable. We hope the next phase for ethical/vegan fashion will be the development of an enforced International governing body to be able to regulate and advise the consumer about where the product is manufactured, what it's made from, and who made it. It would be the same concept as the food industry and their detailed product labelling, which offers information on what is behind the label. We hope that the craze for throwaway fashion will start to decrease, and become replaced by a slower fashion with values of care, appreciation, excellent quality and durability.

Ultimately long term we need to be encouraged to be more thoughtful on how we spend our money; from considering which brands we support to which supermarket we shop at, as it all contributes to a vast supply chain that we are all essentially responsible for.

I have had many influences and people that have inspired me over the years, Katherine Hamnett, Anita Roddick and Caroline Lucas to name a few. My most recent inspiration is Florence Given who wrote 'Women Don't Owe You Pretty'. It has challenged me to take another look at my feminism and re-evaluate as you should never stop growing and learning.


I love my Asia loafers from Beyond Skin.