Gola has just launched a new collection of vegan trainers certified by The Vegan Society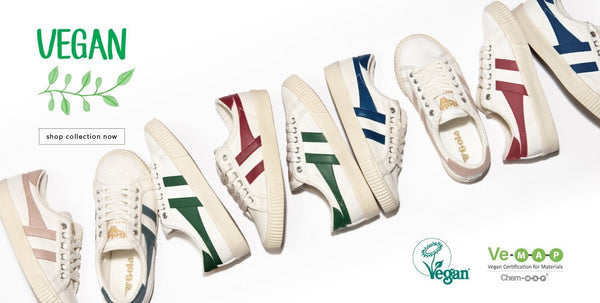 British sportswear brand Gola has just announced the launch of a new vegan collection that is completely free from animals and has been registered with The Vegan Society.
Companies are increasingly realising that veganism extends to every part of a vegans life, from the food they eat to the clothes they wear and so are competing with each other to release vegan collections to meet the growing demand for animal-free fashion. British sportswear manufacturer
Gola
is keen to give vegans more options when it comes to footwear with its first-ever range of fashion-forward vegan trainers that contain no animal-derived materials. The colourful collection includes an extensive range of styles to choose from with options for ladies, men and even children to choose from.
All Gola vegan options will feature a branded swing ticket which illustrates that the Gola Classics Vegan range is registered with the Vegan Society and Ve-MAP.
Ve-MAP
Instead of using animal testing in the materials manufacturing process, all Gola's vegan options have undergone Ve-MAP chemical testing and are also registered with the
Vegan Society
to ensure peace of mind for conscious consumers.
Ve-MAP is a new, unique DNA-based testing procedure that identifies any trace of animal DNA from chemicals within Gola's footwear and the manufacturing process such as chemicals used in the fabrics, dyes, adhesives and finishing components right down to the soles.
Evolution
In a statement sent to Bare Fashion, a spokesperson for the company said: "Founded in 1905, Gola is an iconic British brand that has always evolved and changed with the times. Today, we are not only updating our design staples to reflect contemporary styles, we are also updating our production processes with veganism in mind.
"We take pride in introducing this new line of Vegan shoes in the UK and international market, which showcases how committed we are in creating quality products that can last season after season, but are also friendly to those who have chosen veganism.
Shop the new vegan range online at www.gola.co.uk/vegan-trainers-t189
Sign-up here to hear more about vegan fashion and beauty and be the first to hear about ticket releases for our next event…
Click HERE to get your tickets to Bare Fashion.