His and Her Vegan Beauty Gift Guide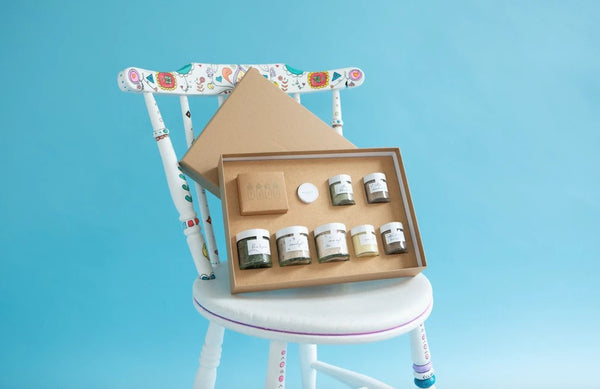 Worried about what to get your nearest and dearest vegans this Christmas? Well not to worry. Bare Fashion have looked high and low, gathering the very best of vegan beauty, from shaving bars to shampoos, all in one handy list.
Ren Moroccan Rose Otto Bath Oil - £32
We can all agree that Christmas can be somewhat stressful, with shopping, wrapping and cooking dominating our lives for most of December. So why not give the gift of relaxation this festive season, with this rich and soothing bath oil? Every bottle is crammed with thousands of rose petals, and is made entirely from cruelty-free, plant-based ingredients.
The Kind Planet Company Power Balm - £19.50
Do a kindness this Christmas by calming your favourite man's irritated skin. This Power Balm is loaded with ancient healing remedies from West African tradition, including sustainable red palm oil that heals and calms inflammation, and shea butter that protects skin with vitamin K and essential fatty acids.
Benecos Brush Essentials Gift Set - £18.82
Looking to achieve a flawless face of makeup? This gift set includes a powder brush, blush brush, blending brush, eyeshadow brush and a lip brush to cover all bases, each crafted with durable birch wood handles for ease of application.
Pai Rosehip BioRegenerate Oil - £24
Get your loved ones something they'll look forward to using every day. With regular use, this cruelty-free, all-vegan oil deeply conditions skin, as well as improving firmness and elasticity whilst promoting a clear and even skin tone.
Zao Eyeshadow Palette Clin D'oeil No.2 - £52
Displayed in a gorgeous refillable bamboo palette, these 10 metallic and pearlescent eyeshadows are designed to suit all skin tones. Vegan and organic certified, each colour utilises castor oil and silica to achieve an intense pigment and a silky finish.
Kierin NYC Nitro Noir Eau de Parfum - £65
There's nothing nicer than finding a new signature scent for Christmas, but it can be tricky finding one that's eco-conscious. Not only is Nitro Noir completely cruelty-free and packaged in 100% recycled materials, it's also a hypnotically spicy and intoxicating unisex scent that you're sure to enjoy wearing all year round.
Ethique Tip To Toe Shampoo & Shaving Bar - £12.99
Tired of littering your bathroom shelves with countless plastic bottles? The all-in-one shampoo and shaving bar prevents 3 plastic bottles from being made and disposed of, saving 2.7 litres of water from being wasted. Packed with orange, lime and mint oils, it boasts a clean and zesty scent that'll keep you smelling fresh all day long.
Lush Angel Hair Shampoo Bar - £8
Cut down on plastics this Christmas by opting for one of Lush's signature shampoo bars. This delicate pink bar is enriched with rose water and witch hazel to calm sensitive scalps, and loaded with aquafaba to add strength and shine to your luscious locks.
Petit-Vour Vegan Makeup Starter Kit - £27
Veganuary is just around the corner, and what better way to prepare your friends than by treating them to a complete vegan makeup starter kit? Each box contains an eyeliner, concealer and lip gloss that are completely customisable to the shades and tones that suit you best. Each box also comes complete with mineral enriched mascara to finish the guilt-free look.
Edwin Jagger Imitation Horn Shaving Brush - £31
Whereas most shaving brushes are made from badger hair, this one from Edwin Jagger is synthetic, creating the same smooth, lathering effect with none of the animal cruelty. Plus it looks extremely classy when displayed in your bathroom.
Orly Radical Optimism Nail Varnish Set - £44
It's hard enough finding one shade of vegan nail varnish, so why not treat your loved ones to six all at once? The delightful mix of pastel shades in this set features; a nude creme, a peach creme, a light coral, a bubblegum mauve, and lilac and aqua shimmers.
Nini Organics Nini Experience Gift Set - £95
Why not go the whole hog this Christmas (or the vegan equivalent) and treat your nearest and dearest to this elaborate beauty gift set, made from organic plant-based ingredients and free from harsh chemicals? This set includes twelve of Nini's finest scrubs, beauty balms, bath soaks and cleansing oils, each one crammed with plant-based beauty goodness.