H&M has launched a sustainable collection made with vegan pineapple leather and orange silk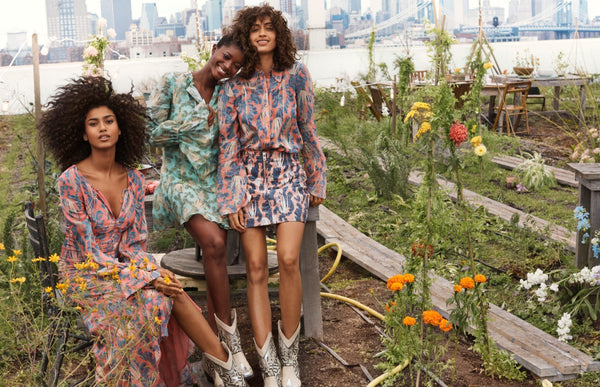 Global fashion retailer H&M is getting set to debut its new Conscious Exclusive collection in stores and online and it focuses on innovative and sustainable vegan materials.
Major fashion retailer H&M has just debuted its brand new collection, and it seems sustainable vegan materials are firmly in fashion this season. The company has partnered with several textile innovators to create its new collection, and so the H&M Conscious Exclusive collection will introduce three new sustainable materials for this season: Piñatex®, a natural leather alternative made from cellulose fibers extracted from pineapple leaves; BLOOM™ Foam, a plant-based flexible foam using algae biomass; and Orange Fiber®, sustainable silk-like fabrics made from citrus juice by-products. The stylish yet conscious collection features a range of stylish fashion pieces such as jackets with vegan pineapple-leather accents (which comes with matching skirts and boots), vegan orange-silk corset tops, as well as a range of piece inspired by nature that feature bold animal prints, coral and aqua hues in keeping with the seasons hottest colour palettes.
The company will also be using recycled polyester, sequins, glass, metal, and plastic to create clothing and accessories in the range. According to H&M's Creative Advisor, Ann-Sofie Johansson, the company wanted to create a collection that was fashionable, sustainable and easy to wear. In a statement, Johansson
said
: "For this collection, we explored the beauty in nature, which shows in the prints, as well as the flowy silhouettes, the striking color palette and the attention to detail. "We're thrilled to introduce new plant-based sustainable materials to create high-performing, beautiful and fashionable pieces that are statement-making yet so easy to wear."
Pineapple leather
H&M is not the first company to create clothing using materials such as pineapple leather. Last year, fashion brand
Hugo Boss
entered the world of ethical fashion with the release of a new
vegan range of eco-friendly sneakers
made from pineapple leather. Designers are not just using pineapple leather in their designs, as German brand
nat-2
has created a pair of sustainable vegan sneakers made of a soft,
suede-like mushroom leather
that's also antiseptic and anti-bacterial. Sports brand Reebok has also experimented with ethical and
sustainable fashion
with the launch of a pair of fashionable
vegan sneakers made from corn and cotton
.
The Conscious Exclusive collection will launch in stores and online on April 11.
Click HERE to get your tickets to Bare Fashion.