How to stop buying clothes: A new year's resolution to help save the planet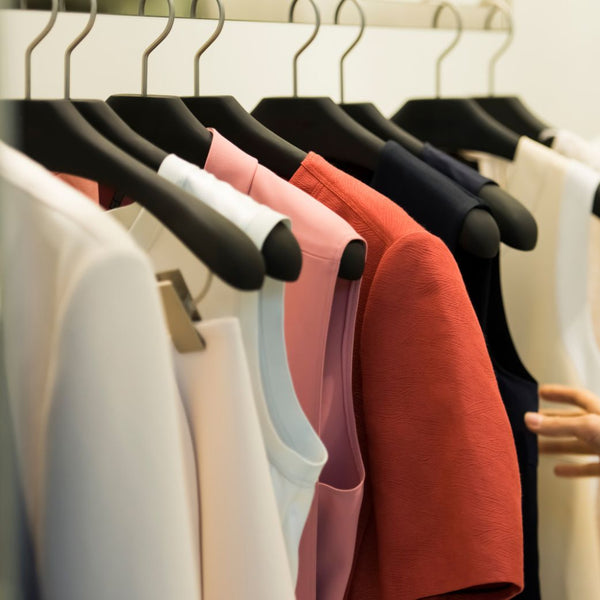 We all know that fast fashion is bad for the environment and our wallet, but can cutting down on your new purchases actually help save the planet?

According to a new report by the Hot or Cool Institute entitled Unfit, Unfair, Unfashionable: Resizing Fashion for a Fair Consumption Space, one of the biggest things that will help reduce the fashion industry's impact on the planet is to stop buying new clothes.
They recommend that the only way of meeting these targets is for everyone to buy just five items a YEAR. Yep, that's not monthly, but annually. There are obviously other things that can also help such as washing at lower temperatures and looking after our clothes better, but the key is to stop shopping and start wearing what we actually have.
So, with that in mind, here are our tips on how to make more of our wardrobe – and buy less in 2023.
The definitive guide on how to stop buying clothes
Analyse your wardrobe
If you want to know how to stop buying clothes, the first step is to look at what you already own. There's a good chance that you only wear a small percentage of your wardrobe. A survey done last year found that as many as eight in ten wear the same few clothing items on loop, with just 6% of those surveyed having worn everything in their wardrobe at least once. The same survey found out that 59% of those people questioned don't wear clothes because they're buried at the back of their wardrobe.
Take a look at what you've got and decide whether to keep it, donate it or mend it. Items that should be donated are those that don't fit, aren't your taste anymore or don't fit in with the life you have right now.
Then it's a good idea to see what you really wear out of the remaining items in your wardrobe. An easy way to do this is to hang all the items of clothing one way, and as you wear each item, hang them facing the other way. Do this for a month and you'll easily see what you're not wearing.
It might just be that they need altering to fit better or you need to think of other ways to wear them. Or it could be they just don't suit you, fit into your lifestyle or you have more than one variant of that item.  
Repair and upcycle clothes
Instead of giving in to the temptation of buying something new, look for items that you can fix up in your wardrobe. That favourite pair of jeans with a hole in them? Add a patch! Those trainers that are looking old? Bung them in the washing machine and buy new coloured laces.
Don't be afraid to put some DIY skills into practice to alter clothes as well - sew on embellishments, distress denim, or add patches. Upcycling your clothes is an easy way to make them feel new again, while also exercising your creativity.
If you're not handy with a sewing machine, hems can be taken up using Wonderweb, which you just iron on. Alternatively, seek out a local tailor or alteration service. They will be able to alter dresses to fit, take up hems or make a maxi dress into a mini. It may not always be as cost effective as buying new, but if you love an item, it's a great way to keep wearing it. Even Zara have got in on the repair action – you can get your favourite Zara item repaired, with services starting from just £3.
Work out new ways to wear your clothes
We're all guilty of wearing our favourite clothes the same way and this is one of the reasons why we often feel we have nothing to wear. While it's always good to have some fool proof outfits that make us feel good and help us cut down the time it takes to get dressed, playing around with your clothes and accessories can make you feel like you have something new in your wardrobe.
Take some time out to try on new combinations that you've not worn together before - this is an easy way to learn how to stop buying clothes. There are lots of ways to wear what you already have – a polo neck under a summer dress means it can be worn all year round, while a belt over a long jumper makes it more office appropriate.
Tying knots into clothing, especially oversized shirts and t-shirts, will give them a whole new silhouette, while belts, scarves and jewellery can all help change the look and feel of a much-worn item of clothing.
Rent it
Many of us buy new for occasions such as wedding or black-tie events, which can then mean you have more sparkle than you know what to do with. If that sounds like you, why not rent your outfit instead? Sites such as Hurr, By Rotation and Onloan, all make it super easy to secure that unique outfit for a big event and help you to stop buying clothes! Plus, you may get to wear brands that were previously out of your budget. Some like By Rotation, also allow you to rent out your wardrobe, meaning you can make money from things you don't wear that often!
Alternatively, make one of your five items a really good quality dress or jumpsuit that fits well and is simple enough that you can dress it up with different jewellery, shoes and accessories.
Do a clothes swap
A free way to add something new into your wardrobe without buying anything is to have a clothes swap. Gather your friends and their stylish cast-offs and get swapping. As they say, someone else's trash could be your treasure!
Shop second-hand and sustainable
If you just have that new clothes itch to scratch or you're looking for a particular item such as a new winter coat or suit for work, shop vintage. As well as the usual charity shops to trawl, apps like Vinted and Depop have loads of great second-hand clothes, accessories and shoes to buy, which will give you the new clothing hit without affecting the planet.
The same goes for sustainable clothing. If you do have to buy new, opt for sustainable and vegan-friendly items, such as we have on the Bare Store, to ensure that you're doing the least damage you possibly can.
Hopefully now you know how to stop buying new clothes, you'll think twice when that urge hits and instead look to what you already have!
>> Related blog: What is vegan and sustainable fashion?