Introducing our food partner - Eat Chay!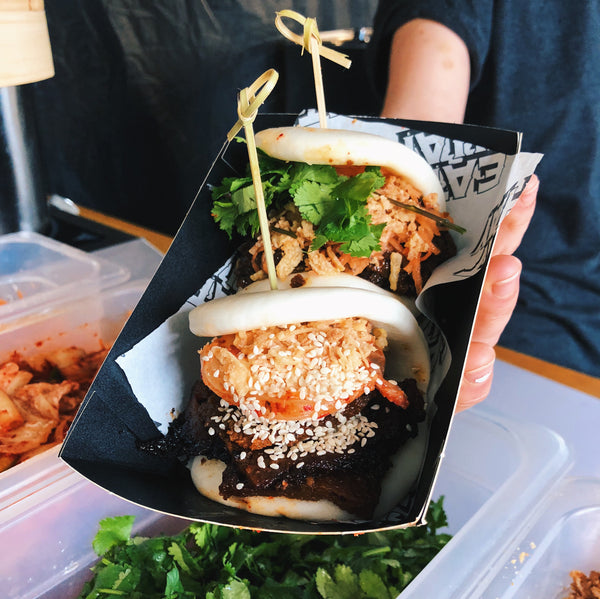 It is with huge excitement and rumbling stomachs that we introduce you to Eat Chay, our food partner for Bare Fashion!
Eat Chay will be ensuring that everyones appetites at Bare Fashion are completely satisfied with a menu good enough to eat
(literally).
Their menu includes banh-mi, steamed buns and kimchi burgers that are all 100% vegan! The company started when two fresh-out-of-uni graduates, with zero experience in the food industry and some money saved up form working part-time, came up with the dream that was Eat Chay. Since their first day of trading on Brick Lane with only a cooler box, small pan and a mini stove to fend for themselves - and running on little sleep having hand cut and fried all of their seitan throughout the night - it's fair to say that a lot has changed for Eat Chay and we cannot wait to have them at Bare Fashion.
Now the two uni graduates have built up a fantastic team of passionate individuals and have been fortunate enough to invest in a machine to cut their seitan for them. Saving the team both time and valuable sleep unlike before! Regardless of their change in size, Eat Chay still promise to use new and exciting ingredients in order to re-create their favourite childhood dishes without the unnecessary use of animal products. They promise to deliver and keep intact all of the flavours that promise to transport you to East Asia with every bite.
"At Eat Chay, we put a modern twist on the traditional Vietnamese and Korean dishes by stripping away the use of animal products and letting fruits & vegetables, herbs & spices shine on their own"
(eatchay.com)
If you like the sound and look of Eat Chay's food, make sure you get your ticket for Bare Fashion here and get your hands on a delicious, vegan, Vietnamese dish!