Kali Cooking: Roasted and Seasoned Nuts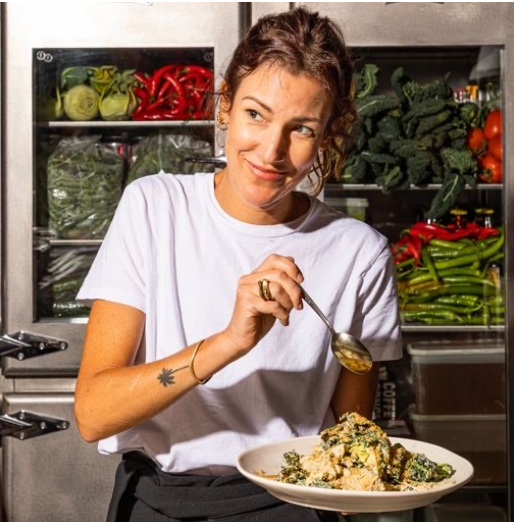 Welcome Kali to Bare Fashion! You might already be following private vegan chef, Kali on instagram or have been to Palm Greens that she founded or dined at her one of private supper club events. Check out her recipe & top tips!
Kali Cooking:
I always I have a shelf full of roasted and seasoned nuts and seeds to snack on and add to dishes for an extra nutrients, texture and flavour. 
Here's a recipe for one of my favourites, furikake seasoning. 
Furikake is made with sesame seeds, seaweed and salt.  There are many variations on this classic Japanese seasoning, often with nori seaweed. This time I've made the furikake with dulse and a little chilli. If you can't find dulse switch it out for nori, just toast the nori over an open flame for a couple of seconds before using. 
How do I use it?
Elevate your meals with this delicious seaweed sprinkle. Perfect for salads, noodles, vegan stir-fries, and soups, We used this to season our popular oyster mushroom tempura on our small plates menu at Palm Greens. 
As well as it's delicious taste, seaweed is a powerhouse of macro and micronutrients, making it a smart and sustainable choice. Seaweed farming requires minimal maintenance, resulting in a minimal environmental impact while benefiting the ocean ecosystem. It acts as a vital habitat for sealife and effectively absorbs high amounts of CO2, contributing positively to the oceans health. Seaweed is not only farmed for food but is also increasingly utilised for creating sustainable packaging.
Keeping a jar of this versatile seasoning in your pantry is a great way to add extra nutrients and flavour to your meals. 
I finished this Ginger Noodle Broth with a sprinkle of furikake.  Find thel recipe for my  this soup  on my site. 
Dulse Furikake 
Blitz all the ingredients in food processor, blender or use a pestle and mortar to grind, until you have a rough crumb, the dulse may still be a little chunky but that's okay. Store in a jar, it will keep well for a few months. 
Kali Cooking: Kali is a plant based chef and co-founder of Palm Greens. Her food finds the balance between flavourful, uplifting and healthy. Her love of travel combined with her interest in nutritious, mindful cooking heavily influence the flavours and style of her food. 
She has worked as a private chef for close to fifteen years, as well as catering private parties and writing recipes. She also runs Palm Greens with her partner, Memby. Palm Greens salad bar is located in Arcade Food Hall, and they run quarterly sell out supper clubs. 
Follow Kali