Kat Von D Launches New Vegan Shoe Collection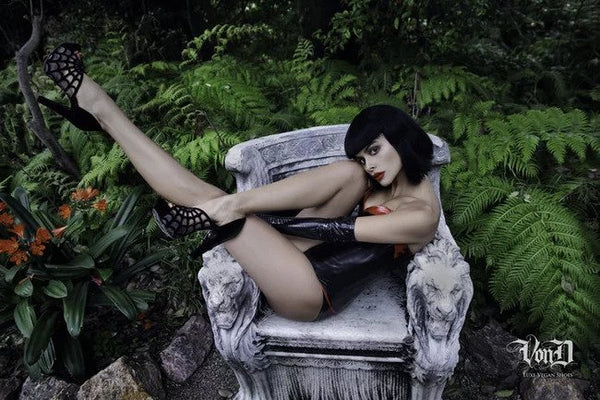 Ever wander the shops, worn and left wanting by the slim range of vegan footwear made available on shelves? Well, Kat Von D felt the same exact way and decided to do something about it...
The talented beauty mogul and tattoo artist dreamt up her own line of luxury vegan footwear,
Von D Shoes
, which will be available to shop starting 1 November, which also happens to be World Vegan Day.
After changing her habits and becoming vegan in 2013, she confessed to reevaluating her fashion choices in dismay: "I thought it was just a dietary thing. Then I was looking at my shoe collection and everything was either made out of leather or snakeskin, or the adhesive used was derived from horses." Despite the recent influx of vegan footwear to the fashion scene, Von D struggled to find anything that matched up to her infamous style and aesthetic. Turning to her vegan friends, she found that a lot of them were facing a similar situation. For more than two years, Von D worked to create her own shoe collection, making careful decisions about everything from price point —Von D Shoes range from $90 to $350 — to the high-quality factory in Italy where the shoes would be produced. While Von D knew that people would be looking to her collection to score pairs of her trademark 'sky-high platforms,' she also notes that a goal was to make shoes that appealed to everyone — not just those who dressed like her. Speaking to InStyle, she said: "It was really important to me to get vegan shoes on everyone's feet. I really focused
on making a wide variety of different styles — ballet flats, wedges, platforms, combat boots, riding boots, moon boots, creepers, and then a few unisex styles as well. The quote-unquote 'women's styles' come in sizes 5 to 12, just to be able to hook up all of my drag queen friends." Von D has also looked into sustainable sources for her faux leather shoes, exploring every material from mushrooms to pineapples, landing on compressed apples as a durable, reliable replacement for leather in her collection. She claims that it 'imitates leather in every single way' - even with how it ages.
On 1 November, Von D Shoes will drop 13 styles, with 19 more to follow in the coming months. Some of the designs will even donate 100 percent of the proceeds to no-kill animal shelters: "We're working closely with
Best Friends Society
because the work that they do with no-kill shelters is really impressive and amazing."