Lucy Bee to launch new vegan skincare range that's palm oil free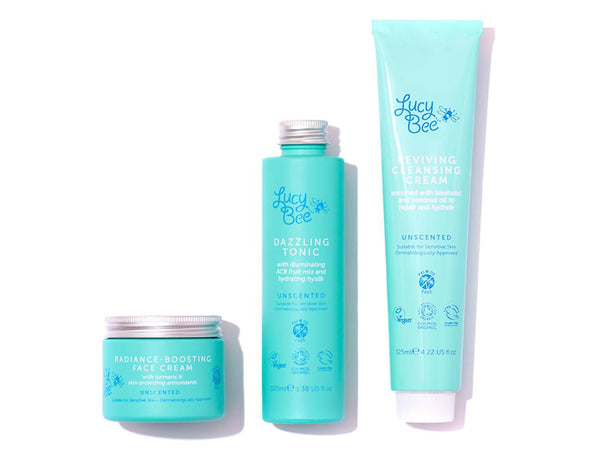 Lucy Bee, the home of everything coconut oil, is launching a new skincare range which is 100% palm oil free and vegan.
Following the success of their natural soap bars, the first three products in the range will include: a Reviving Cleansing Cream, Dazzling Tonic and Radiance-Boosting Face Cream. Several more products that are still in the works are set to join the collection over the coming months. Each of the new products uses the brand's signature coconut oil to act as a moisturiser for all skin types. While the ABC Fruit Mix ingredient in the Dazzling Tonic helps brighten the complexion and improve exfoliation. The highly anticipated launch has taken years of development for it to be 100% palm oil free – a rarity for most skincare products. The range was created using high quality, all-natural ingredients and is cruelty-free, vegan and COSMOS Organic. All the products are manufactured in the UK, and any partner shares the same ethical and environmental values as Lucy Bee.
It's an added bonus that, unlike most beauty products that rely on plastic, Lucy Bee skincare uses recyclable packaging throughout including glass, aluminium and FSC card. Lucy Buckingham, founder of Lucy Bee, said: "It's amazing to see the range come together after years of research and testing. My background is in beauty and I've always been passionate about creating my own skincare range and after sticking to our values, we couldn't be happier with the range. We set out to be one of the UK's first palm oil free cosmetic brands and we're thrilled to have achieved this." "Having listened to customer feedback, we've made conscious decisions with our packaging and ingredients, so that the range is good for you and good for the planet while sharing the same values and ethics as our other Lucy Bee products." The Dazzling Tonic, Radiance-Boosting Face Cream and Reviving Cleansing Cream can be purchased
here.
The range is priced between £18-£35 and lasts between 50-80 uses.
Sign-up here to hear more about vegan fashion and beauty and be the first to hear about ticket releases for our next event…