5 Minutes with Mariah Idrissi on Ramadan & Living Sustainably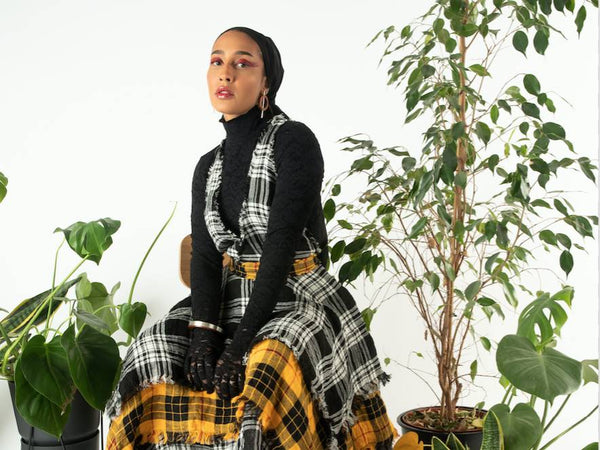 Mariah Idrissi is a film maker and model who gained recognition as the first Muslim hijab

-wearing model when she appeared in

H&M

's "Close the Loop" campaign in 2015.
BF You were recently in Kenya - what were you doing there?
MI: I work closely with a charity called 'Help Yateem', Yateem in Arabic means orphans and that's the main area they focus on. The project I went to visit in Kenya was for a new boys orphanage that an organisation called 'Al Walidayn Centre' is building. They have already built an entire complex for girls including the first free hospital in Kenya! I went to film content to raise money for the new orphanage as well as raise awareness for people to help support the costs of running the girls orphanage, school, mosque and hospital. 
How has your attitude towards fashion changed since your first start?
MI:
I've always loved fashion and how I can express my personality through clothing. However, over time I've become less interested in consumerism and grown interest in being more minimal and sustainable whilst still keeping up with trends and expressing myself. 
How do you shop now?
MI:
I don't shop as often and I usually buy new things when needed rather than just because I like something. I also love vintage and upcycling clothes so shops like 'Atika' in Brick Lane is a go to if I want to freshen up my wardrobe. 
What's your favourite item in your wardrobe?
MI:
Although I think I'm not the most sentimental person in the world, I do have a few items that I love and can't just put it down to one! I'd say a denim jacket that was given to me whilst I was doing a talk in the USA is one of my favourite items. 
What does living a sustainable lifestyle look like for you?
MI:
Living sustainably can mean so many different things to different people. For me, it's about intention and effort to be less of a consumer and more conscious of how we spend. The world is a big place, if we didn't create so much waste on our planet because of excessive spending whether it's on food or clothing, I think this will help reduce some of the problems. 
What is your next film/documentary project?
MI:
I'm currently working on something that I'm both producing and presenting in but I can't say much at the moment! 
You also spoke about how Ramadan is a time for you to reconnect with yourself- can you tell me why this is important to you and how you do that?
MI:
Ramadan is like a detox month for me, a month where I detox from both food and timewasting. When you create space by removing unnecessary things, you create room to fill it with something better. I use this month to try and fill that space with God consciousness and overall productivity that will benefit me in both the afterlife and this life. I reconnect by fasting (naturally), special night prayers that take place during Ramadan, reading the Qur'an and other beneficial books and simply trying to give myself more time to think and reflect. 
****
Stylist - Rebekah Roy @rebekahroy_ 
MUA - Samah @samahsay    
Hijab Stylist - @humairawaza 
Fashion Credits
Image 1
Coat and Dress by Sarah Regenburger
Earrings by My Silverwood
 
Image 2
Denim Jacket By The Well Worn
Dress by Mary Benson
Sunglass by Black Eyewear
All jewellery by Babette Wasserman and Sunglass by Black Eyewear