Meet the designer - Lalla Wandavi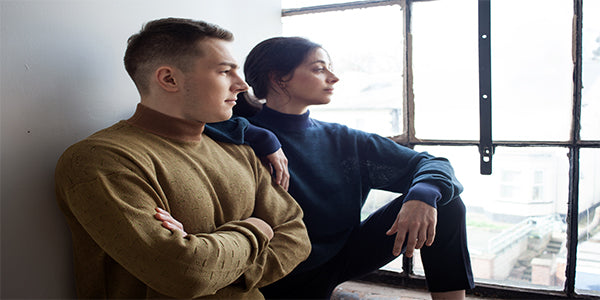 We had the lovely pleasure of speaking to Maria-Laura Wandavi, founder of Lalla Wandavi about all things vegan knitwear and why vegan fashion is so important...
Tell us why vegan fashion is important to you ?
Vegan Fashion is the core principal of my Lalla Wandavi label. I have always had a respect for nature, however the label took the step to be totally vegan a year and a half ago when I became fully present to what matters to me in my life, I created a Life Intention to be the Voice for the Voiceless. I applied this to Lalla Wandavi and after looking more deeply into the animal welfare side of fashion, I consciously chose to exclusively use fibres which are natural and plant derived. I want to make amazing, high-end knitwear, minimalist but with eye-catching designs and I want to do this whilst making a stand for the animals and not using fibres taken from them.
What is your inspiration behind your designs ?
I am inspired by nature in all its forms, insects, plants and tree bark for example. Recently my designs have been inspired by the patterns and the textures of bird wings. I find it extraordinary how intricate the feathers are, simple yet powerful. I love their shape and how they look different under different lights, showing surprising and beautiful details.
What is your ' vegan yarn' and how long did it take you to source it?
My first vegan collection is called The Vegan Yarn it features nine jumpers. The Vegan Yarn refers to not only the fibre but also to a tale, so this collection is the start of the cruelty-free knitwear tale I want to tell. The bamboo, linen, and organic cotton yarns are sourced from Italian and Canadian suppliers. The collection went on sale on February 2018.
What would you say your biggest challenge has been launching a luxury vegan collection?
Many people in our industry cannot conceive of knitwear existing without the use of animal fibres such as wool, cashmere and silk. The biggest challenge has been standing up to this entrenched position, proving that beautiful, elegant knitwear can be cruelty-free. It has taken something to take a stand for my vision and go for it! Another big challenge has been keeping production local and ensuring the highest quality standards are maintained throughout the process. I inspect each and every garment to ensure each individual piece is perfect.
Can you tell us what might be next from Lalla Wandavi ?
I am focused on creating more awareness of my brand and finalising the next Lalla Wandavi collection to be released in October 2018. Most important of all I am preparing for the Bare Fashion show, this is first time I will have showcased my vegan collections.
Who in the vegan fashion industry do you admire the most?
Nemanti Milano is one of my favourite brands. They not only produce high quality shoes, entirely made in Italy (the country I was brought up in), but they are also cruelty-free. The designs are elegantly sleek, beautifully engineered and skillfully made.
Bare Fashion is around the corner - what is it about the event that you're most excited about?
It is very exciting to know that I will be participating at an event which integrates all the values I am passionate about. I look forward to meeting other designers and people who are committed to creating a bigger future for all of us, supporting a sustainable way for living and manufacturing. I am excited that I will be able to personally welcome people to my stand, show them my beautiful knitwear and speak to them about my work.
If you'd like to see Maria's beautiful products and speak to the founder herself, make sure you get your ticket to Bare Fashion this August and come and see both of their beauty in person.
You can purchase Lalla Wandavi's high-end vegan knitwear pieces exclusively from Wolf & Badger.