A new sustainable vegan skincare range is launching at Lloyds Pharmacy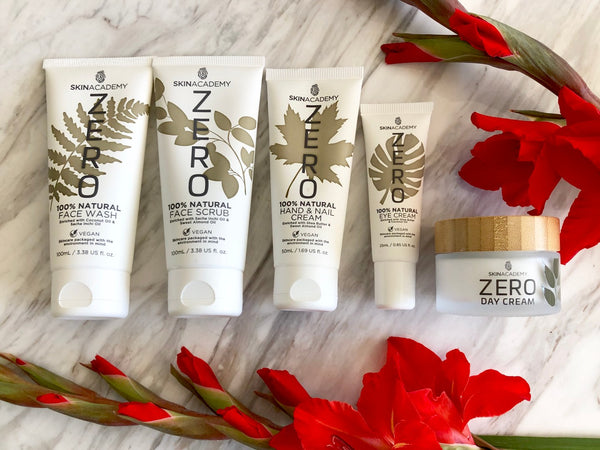 Skin Academy confirmed that its new vegan skincare range Zero is to appear on the Lloyds Pharmacy shelves within mere weeks of being launched.
Zero is the UK's first mass-market, 100% natural, 100% recyclable/recycled packaging and sustainable skincare range to have already secured national distribution. The collection will be rolled out in 84 Lloyds Pharmacy's from mid-November, with a further 500 stores planning to stock it from January 2020 onwards.
The six new products — a day cream, night cream, facial wash, facial scrub, eye cream and a hand cream — are all made with 100% natural ingredients. The launch into an influential national retailer such as Lloyds Pharmacy is pivotal to the success of the range which was met with rave reviews at the launch event in September. In line with the retailer's focus, the innovation with the Zero range sets a new environmental standard in the beauty industry, creating a product range which champions green, ethical practices in both how the products are made and how they are packaged, whilst not compromising on quality and benefits to the skin. Antony Wagman, CEO of Quest Personal Care and Skin Academy said: "To have a retailer listing of this stature so soon after the range was launched really is testament to the waves we are making in the industry. Zero is a huge milestone and step forward for the sector as there are quite simply no synthetic elements in the product, so the ingredients are completely natural, sustainably sourced, plant-based materials.
"The subtle fragrance in the creams is also 100% natural and with zero parabens and zero SLES / SLS this range really is paving the way for an ethical beauty regime that certainly doesn't compromise on quality and benefits to the skin for consumers." The packaging has also been made as eco-friendly as possible. The day and night creams are produced in recyclable glass jars, with natural bamboo lids which are fully compostable. Where tubes are used Skin Academy has opted for sustainably sourced sugar cane. This bio-based sustainable plastic uses sugarcane ethanol to substitute standard ethanol obtained from crude oil drilled from the ground, with the caps on the tubes also being recyclable. Antony added; "Our intention was to create a standout range that allows consumers the luxury of natural, premium skincare at affordable prices, without damaging the environment and we are thrilled with the results and that Lloyds share this vision and are making the range accessible to customers." The full range is delivered in recyclable card, with a 15% recycled content and shipping cartons are made from 100% recycled card.
Click here to read about more vegan beauty products