Nike announce vegan 'Space Hippie' trainers made from recycled materials and waste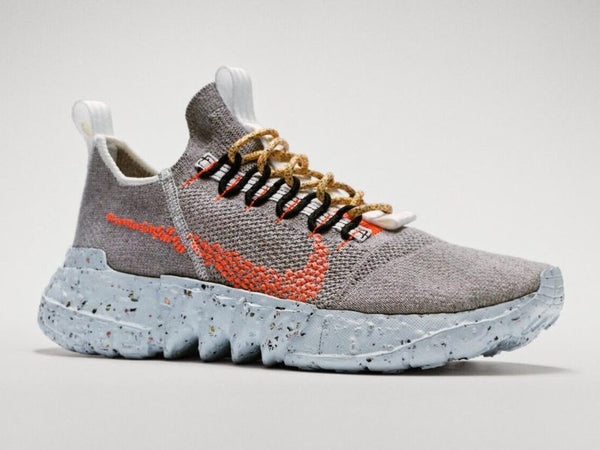 As we saw off the last decade, multiple news outlets and fashion journalists were predicting that vegan sneakers (or vegan trainers to us Brits), would be the biggest trend of 2020. Low and behold, shortly after the announcement that Reebok are planning to release high-performance vegan sneakers for athletes, it looks like Nike are putting their best foot forward with a new design of vegan trainer that prioritises a low carbon footprint.
The American sportswear company created four futuristic designs for their 'Space Hippie' collection that puts environmental sustainability above all else. According to Nike, the vegan sneakers have the lowest carbon footprint scores of any shoe created by the brand so far. https://www.youtube.com/watch?v=Sm9r_Zs2z6s Every design in the upcoming collection is made from scrap material taken from Nike's factory floors, which the brand has named 'space junk', and other recycled materials. The Space Hippie's flyknit-based uppers use at least 85% rPoly—primarily recycled plastic water bottles, t-shirts, and yarn scraps. The sole uses 15% Nike Grind Rubber, combined with 100 percent recycled foam materials. When discussing the new design, John Hoke, Nike's Chief Design Officer said: "The Space Hippie product presents itself as an artifact from the future. It's avant garde; it's rebelliously optimistic but it's also an idea. It is about figuring out how to make the most with the least material, the least energy, and the least carbon."
The new range, which will be available this coming spring for Nike members in SNKRS and SNEAKERS, some flagship locations and select retailers, is a part of the brand's wider sustainability initiative. Called their "Move to Zero" campaign, the company is looking at achieving the goal of both zero carbon and zero waste, as well as introducing more sustainable materials across their production line and supply chain.
Sign-up here to hear more about vegan fashion and beauty and be the first to hear about ticket releases for our next event…
<meta name="p:domain_verify" content="0507c944eea3634c7d107328e54fdbb6"/>