Partywear that's kind to the planet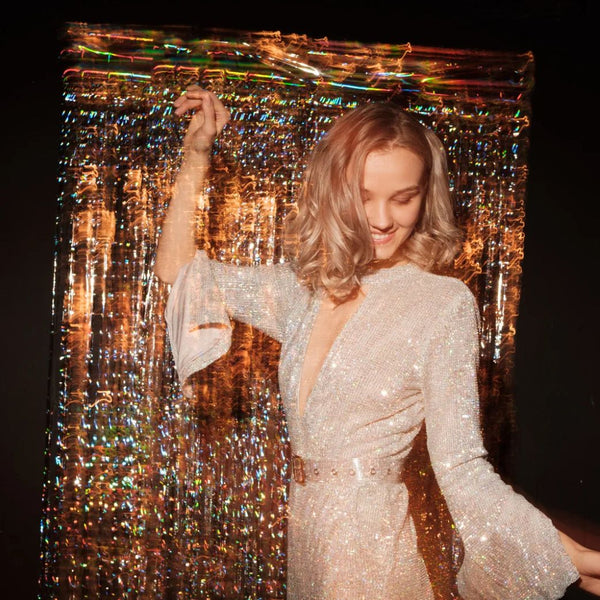 Think partywear and what springs mind? Velvet? Possibly. Feathers? That's more like it. Sequins? Hell, yeah. Pretty fabrics, sparkling embellishment – all of these things make our favourite items party-ready. But what about the cost to the planet?
Let's just take sequins – a staple of many a party dress – but while they look good, what they're doing to the planet isn't that pretty. Many are made from petroleum plastics and synthetic resin that are damaging to the environment. Not only that, but they are literally indestructible and can sit in landfill for many, many Christmases to come without decomposing.
Sequins are so bad for the environment that last Christmas, Boden ditched the sparkly wonders.
"We know that sequins and glitter do drive sales but we were creative and thought of other ways for us to excite and delight our customers," explained Cristian Gilkes, Director of product development and buying at Boden.
While some velvet is made from cotton, much modern-day velvet is made from polyester, nylon, or rayon, which comes from non-renewable oil sources. These fabrics contribute to plastic pollution thanks to microfibres and again, they take hundreds of years to biodegrade.
And while feathers can be argued to be sustainable – they are by-products of the food industry – they're very much a no go for vegans.
So, while Christmas is the ultimate time for a bit of glitz, what are the options if you want to ensure the planet is OK, well after the tree has been taken down for another year? Thankfully, there are plenty of options to allow you to get your glamour on while still being kind of the planet and animals.
Rent your outfit
Rental outfit sites are becoming more commonplace and it's a super sustainable way to sort out your Christmas party outfit. Partywear is often only worn once and then discarded, which is not great for the planet, so by renting, you're not only preventing that, but probably saving yourself cash as well.
Try Hurr for designer finds or French Connection Rental for bargain hires from the brand. You can even rent out handbags from Cocoon, who do have non-leather bags in their rotation.
Wear what you have
Shock, horror – here's an idea for you, wear what's in your wardrobe. Each year, 350,000 tonnes of wearable clothes go to landfill in the UK, and we're betting some of them could have been saved with a new accessory or a styling trick to look like new. Try on your clothes. Mix and match things you wouldn't normally put together and voila, a new party outfit is born!
Buy pre-love
If you're desperate for something new however, try and shop second-hand or vintage. As the saying goes, someone's trash is someone else's treasure and picking up a second-hand bargain ensures it's not going to landfill. It's not just charity shops and eBay where you can look for a party bargain, many brands now have pre-loved sections on their sites.
Shop from sustainable brands
There are also plenty of fashion brands out there that are now creating sustainable partywear. From high street to designer, there is plenty of choice when it comes to styles and budget.
You don't always need sequins and sparkle to make an impression come Christmas either. Bold brights are always a great choice for parties all year round, while choosing recycled fabrics with a sheen such as Cupro, recycled satin or micro-silk, made from proteins, will allow you to shine without harming the planet.
If you want to buy new for this Christmas season, here's our pick of the best sustainable partywear around right now.
Omnes Green Zebra Print dress, £65

Crafted from a mix of deadstock fabric and ECOVERO™ viscose - produced using raw material wood pulp - this gorgeous '90s slip style dress has satin-like smooth finish and a super cool jacquard zebra print.


>> Buy here

Whimsy & Row Wrap Dress in Midnight, £209

Made from 51% Tencel / 49% Cupro, this pretty dress is available in a variety of different colours so you're bound to find something that suits your party mood!

>> Buy here

Albany Silver Sequin Midi Dress, £130

You can have sequins and be sustainable as this sparkly dress show. Made from fully recycled sequins, it's one you can wear time and time again.

>> Buy here

GungHo Pesticide Jumpsuit, £255

Not only do GungHo work with natural and sustainable fabrics, but all their pieces are conversation starters around important issues, such as the use of pesticides that this gorgeous jumpsuit highlights.

>> Buy here

Jigsaw Recycled Satin V Neck Top, £95

Made from recyled satin polyester, this jewel toned top is the perfect way to add a pop of colour to your party wardrobe.

>> Buy here

Nanushka Vegan Leather Wrap Skirt, £395

Nanushka choses materials for their low-impact qualities, as proven by this vegan leather midi skirt. Team with a shiny blouse for the perfect festive look.

>> Buy here
Baukjen Recycled Sparkle Jumper, £149

Ditch the novelty Christmas jumpers for this sparkly number. Crafted from recycled yarns, it boasts beautiful flecks of soft pink, blue and green and a very subtle hint of silvery sparkle

>> Buy here
Albary Black Velvet Skirt, £69

Made from 100% recycled polyester, this velvet skirt won't be going to any landfill soon due to its classic design. Wear with literally anything to give it a festive spin

>> Buy here
Mother Of Pearl White Dress, £195

Go winter white in this gorgeous puff sleeved number, which is made from organic cotton and tercel. The beauty of this dress is come summer, you can wear it with your sandals - true sustainable fashion right there

>> Buy here
Birdsong Pink Shift Dress, £169

Ditch the traditional red this Christmas for bright pink with this versatile shift dress. Not only is it made from sustainable fabrics, but it also supports those that made it. This dress is handmade in London for Living Wages by Fatheha, Malika and women and they receive £44 from each sale.

>> Buy here






Vildnis Halterneck Jumpsuit, £85

Crafed from Tencel, this silky halter neck is perfect for any party and a modern alternative on the little black dress

>> Buy here
House Of Sunny Laced Peggy Cardigan, £115

Tapping into the Barbiecore trend, this delicious cardigan is made with sustainable fabrics and finished off with a vegan-friendly removable fur collar.

>> Buy here