Ralph Lauren launches polo shirt range made entirely from recycled plastic bottles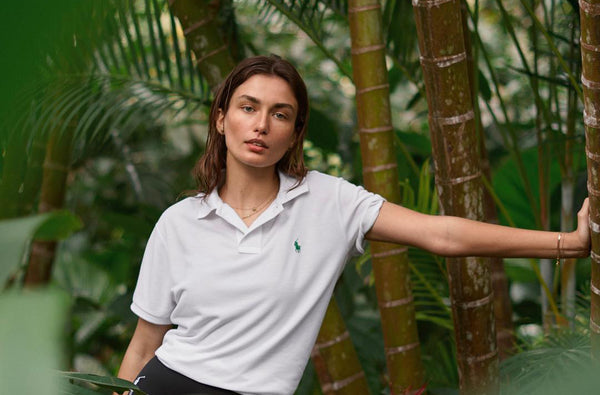 In a bid to prevent 170 million bottles from entering landfills and oceans by 2025, Polo Ralph Lauren has launched eco-friendly versions of its iconic polo shirt made entirely of recycled plastic bottles
Polo Ralph Lauren has launched an eco-friendly range of shirts based on its iconic polo shirt and made entirely of recycled plastic bottles and dyed through a process that uses zero water. The new line, named The Earth Polo, features shirts made entirely out of recycled plastic bottles gathered in Taiwan, with each shirt requiring 12 bottles to make that may otherwise end up in the
ocean
or in
landfill
. The company hopes to prevent 170 million bottles from entering landfills and oceans by 2025 by utilising them in its designs. The company states that the line has been "designed with Mother Nature in mind" and online purchases of the shirts will be sent in eco-friendly packaging.
The skirts are available in four colours, Stuart Green, White, Baby Blue and Navy Blue and according to the company they have been chosen as they are the "colours you see when looking at our home planet from a distance." Each colour is achieved using a unique carbon dyeing process that uses no water in the application of the dye adding to the shirts eco-credentials.
David Lauren, the youngest son of the company's founder and its chief innovation officer, told The Associated Press that the new eco-friendly line comes after the company set fresh environmental goals for its manufacturing process as part of its broader strategy.
"Every day we're learning about what's happened with global warming and what's happening all around the world, and our employees and our customers are really feeling that it's time to step up and make a difference," Lauren said.
Designers are increasingly seeking ways to use recycled materials in their designers with the likes of vegetarian fashion designer Stella McCartney who partnered with plastic recycling company Parley for the Oceans to create a range of animal-free bags, shoes, and outerwear to reduce waste.
The Earth Polo is available to purchase online at http://bit.ly/2vf9uxx.
Click HERE to get your tickets to Bare Fashion.
Image credit: Polo Ralph Lauren/Instagram