Stella McCartney partners with Adidas to release rainbow vegan shoes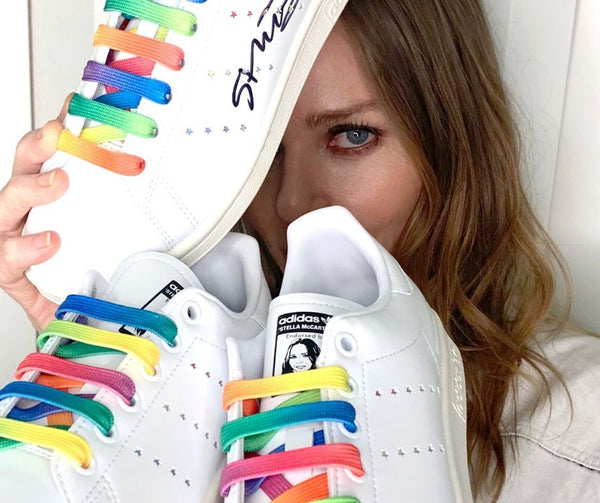 Since launching her career as a designer in 1995, Stella McCartney has been synonymous with cruelty-free fashion. With 51 stores operating globally, she's been championed for leading the vegan fashion into mainstream consciousness.
Now she's announced that on 2 December, she'll be releasing the newest version of the vegan Stan Smith Adidas sneakers.
The shoes are made from synthetic faux-leather and are crafted in the same classic style as their non-vegan counterparts, which are made in honor of legendary tennis player Stan Smith. The glues used in the shoes have been swapped from ones that typically derive from fish or animals, to animal-free alternatives. On creating the sneakers, McCartney told
Vogue
: "A few years ago my husband (Alasdhair Willis) commissioned Adidas to make me a special pair of vegetarian Stan Smiths for my birthday as he knew how much I love the iconic trainer. It got me thinking… so every time I saw the Adidas team, I'd say, 'why can't you make all your Stan Smiths veggie?' It took a lot of convincing, and then finally we collaborated on the first pair of vegan Stan Smiths last year."
Whereas the first generation of vegan Stan Smith shoes were kept to a minimalist black and white design, Stella's newest update is set to feature rainbow laces and punched-out stars across the sides. On the design, McCartney said: "The Stella Stan Smith is unisex as it was important that the theme was inclusive and for everyone." As with the originals, a black-and-white portrait of Stan Smith is to appear on the right tongue of each shoe, and a portrait of Stella on the left. "The launch of our vegan Stan Smith brought us a whole new customer which was predominantly the younger generation. So many young people came into our stores to enquire about the Stan Smith, asking questions about what the trainer was made with, telling our staff about why it was important for them to choose a vegan shoe over a leather one, and what it represented. This is the future."
Sign-up here to hear more about vegan fashion and beauty and be the first to hear about ticket releases for our next event…