Stylish vegan Christmas gifts for every budget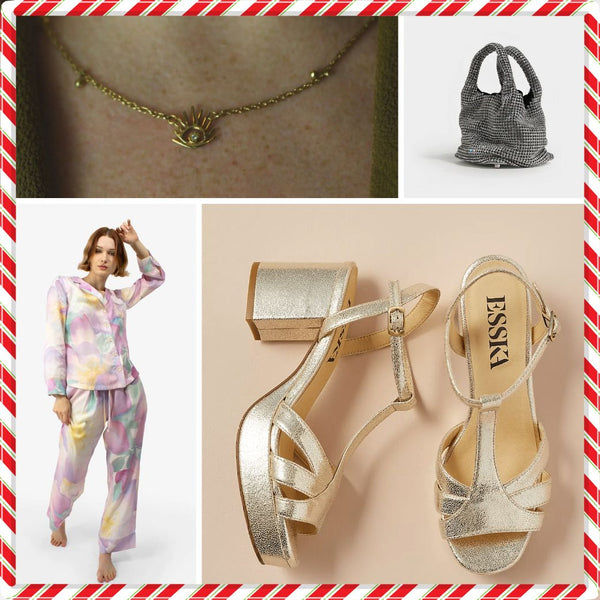 Whether you're buying for a full-on fashionista or someone whose clothing priority is comfort over style, there are plenty of vegan Christmas gifts out there. From brightly coloured hoodies to sparkling bags, here are a few of our favourite choices for Christmas gifts (hint, hint…!)
THE COLOUR LOVER
This person is the one who never wears black. Dopamine dressing is their go to every single day, so unless it's bright and beautiful, don't bother buying it! Bright accessories make a great gift and don't worry if it goes with anything else, they like to colour clash all day long.
L-R: Blue Cork Bag, £155, Murmali | Sea Bird Top, £75, Gungho London | Pink and Blue Hoodie, £67, Plant Faced Clothing
THE LOUNGE LOVER
Netflix and chill is their go-to come the weekend, and while they love to lounge, they still want to do it in style. There's no nasty jogging bottoms and worn out hoodies for them! Instead, think luxury candles, silky smooth PJs and cosy blankets, which they'll hibernate under until the weather gets warmer!
L-R: Butterfly Lady Ceramic Candle, £58, Chase And Wonder | Wild Rose Pyjama Set, £290, Orchard Moon | Chunky Vegan Throw, £125.99, Honey Coated Creations
THE REBEL
For that special someone who likes to fight the fight, choose a selection of punk-inspired goodies. From spray on vegan leather trousers to tartan jackets, they still want to look good while fighting the latest cause.
L-R: Stretch Vegan Leather Trousers, £99, Inaya | Vegan Rebel Socks, £35, Sarah Regensburger | Punk Queen Jacket, £380, Sarah Regensburger
THE MAGPIE
The magpie is drawn to anything shiny and sparkly. While jewellery is always a good gift for this recipient, think outside of the Christmas gift box and look for sparkly accessories, clothes imbued with metallic hues and disco heels that they can dance the night away in. The shinier, the better!
L-R: Brilly Bag, £185, Giarite | Silver Vegan Leather Skirt, £79, Never Fully Dressed | Vegan Gold Charlie Heeled Sandals, £155, Anthropologie
THE MINIMALIST
In contrast, the minimalist doesn't do OTT. They like sophisticated, simple silhouettes in easy-to-wear shades. Classics always go down well so hoop earrings, ballet pumps and well-cut t-shirts make great gift ideas. Functionality is also key so if it looks great AND works well for their everyday life, you'll be onto a winner.
L-R: Texture hoops, £45, April March Jewellery | Micro Vegan Satchel, £85, Mat And Nat | Vegan Blazer, £160, Mat And Nat
THE RETRO LOVER
You'll find her rummaging in vintage shops and jumble sales, trying to find that must-have item that just fits in with her retro style.  They can often be heard mumbling that they were born in the wrong era, while experimenting with vintage hair styles and makeup. While pre-loved is definitely best for this friend, if it looks retro, they'll be happy.
L-R: Kick Flare Jeans, £159, Graysey | Vintage Grifoni Head Scarf, £28, JCN Fascinators | Pink Cord Pinny, £45, Nobody's Child
THE BOHEMIAN
Often found recharging their crystals, the bohemian loves anything that looks like it belongs back in Woodstock. Think tassels, abstract patterns and billowing sleeves and you get the picture. While they'd rather be larking around in bare feet, they know they have to dress for modern life, so little touches such as accessories and jewellery are important in conveying their luxe hippie look and feel.
L-R: Vegan Suede Rancher Hat, £78, Free People | Haul Amulet Necklace, £65, April March Jewellery | Maryam Wrap Long Cardigan, £179, Odd Molly
THE ACTIVE TYPE
Always on the move, if they're not going to the gym or for a run, they're dressed like they are. Preferring comfort over high fashion, they still like to look stylish, whether chanting in their yoga class or opting for a bit of wall climbing.
L-R: Shanti Yoga Mat, £45, Zen Bear | Wave Exceed Tour 5 Trainers, £130, Mizuno | Horizon Purple Yoga Pants, £22, Bamboo Clothing
>> Want to partner with Bare? Find out how here