The five jewellery trends for winter and beyond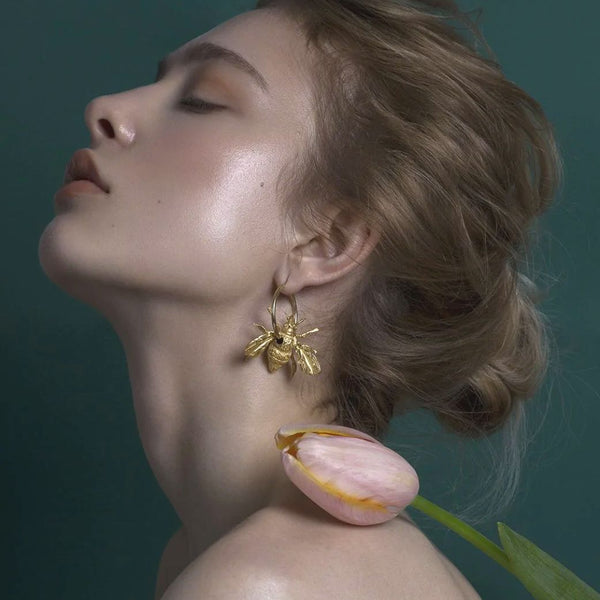 Big and bold, jewellery is making a statement this season. While layers of delicate chains will be a perennial classic, to be bang on-trend this winter, everything needs to be bigger. Supersized chains. Large gemstones. Statement earrings. And there is definitely more than a sense of fun involved with this season's jewellery trends. Here's our guide to the top five winter jewellery trends...
Statement Pearls
This isn't granny's old pearl necklace, this is uber statement jewellery. Layers of pearls worn together, or super-sized pearls worn solo on necklaces and earlobes. While pearls definitely don't fall into the vegan category – oysters only produce them as a response to a stressful environment – there are plenty of vegan alternatives which are just as beautiful and cruelty-free.
(L-R: Northskull Pearl Bar Earrings | Vellva Triple Strand Necklace | Amanda Coleman Mother Hen Bracelet) 
Play time
Playfulness is at the heart of jewellery this season. Whether you go for smiley face earrings or cute animals, novelty is big in both high street and fine jewellery this season. It's an easy way to inject a touch of fun into any outfit, and boy, come the darker months, don't we all need that?
(L-R: Pivot Vogue Earrings | Vellva Smiley Huggies | Lucent Studios Mushroom Earrings) 
The Great Outdoors
Hello nature! While flowers are more akin to the spring/summer seasons, they're having their moment in the spotlight this winter. If floral jewellery isn't your bag, don't worry, you can still buy into this trend.
Thanks to the ongoing popularity of Gorpcore and labels like Gucci partnering with outdoor brands such as North Face, the great outdoors as a whole is very much finding it's way into jewellery. Think butterflies, leaves, bees – anything that signifies nature is cool these days, even more so when it's vegan jewellery!
(L-R: Egret Jewellery Lily Earrings | Gungho London Beatrice Hoops | Talisman Kind Dragonfly Necklace)
A Personal Connection
Ever since Megan Markle wore zodiac necklaces to represent her children, jewellery that has an emotional connection continues to be a big trend. Personalised jewellery maybe nothing new, but it's gone to new heights this year. Jewellery adorned with initials, zodiac signs and birthstones are continual best-sellers for many of the big jewellery brands. This kind of jewellery also makes great Christmas presents.
(L-R: Wearth London Zodiac Necklace | Scarlett Jewellery Vegan Bracelet | Talisman Kind Viking Rune Personalised Ring)
Dopamine Dressing
The trend for bright colours in clothing has been around for a while and now it's moved onto jewellery. The idea is if you wear something bright, you feel better for it, and perhaps this is why it's big for winter.
Bright, happy colours are one way to feel better when snuggled up in jumpers and thick coats. It's also about choosing textures and shapes that make you smile. Basically, if it makes you happy, it's on trend!
(L-R: Talisman Kind Statement Fan Earrings | Fabrikk Eco Cork Bangle | Pivot Acetate Links Earrings)