The launch of Bare Fashion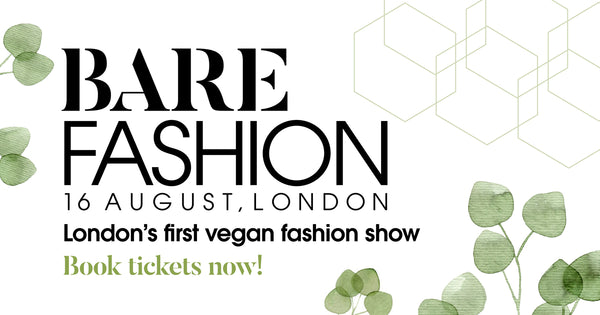 Bare Fashion is not only Vegan Food and Living's first vegan fashion show, but it is also the first ever in London and we are very excited to finally tell you all about it.
The team at Vegan Food and Living have teamed up with the fabulous show producer John Walters, and the equally fabulous stylist Rebekah Roy, to bring you this incredible event in the hope of raising the profile of the vegan and cruelty-free fashion and beauty market.
Bare Fashion
will feature Autumn clothing lines from vegan, sustainable and ethical brands from the UK and beyond. All clothing products featured at Bare Fashion are
100% vegan
and
100% cruelty-free
. The event will showcase the best in vegan clothing and beauty products alongside a sterling combination of beauty
pop-ups
, vegan food and vegan cocktails! Located in the incredible
Boiler House Room in London
,
on Thursday the 16th August, the event is sure to be an unmissable night for anyone looking to expand their knowledge of the vegan clothing and beauty market in a fun, exciting and ethically rewarding evening.
Event information
Date: Thursday 16th August 2018
Time: 7pm
Venue: The Boiler House Room, 152 Brick Ln, London E1 6RU
Tickets: Early Bird £8 / Standard ticket £12 - VIP Early Bird Package £25 / VIP Package £35
The VIP Package
There are a limited number of VIP Packages available, which include:
Entrance to the fashion show
Delicious Vietnamese vegan dinner from Eat Chay
Eco-glitter makeover
A goody bag worth £50
... and much more!
If you would like to be a part of Bare Fashion, visit this link here on how to get involved with the event.
Like us on Facebook, follow us on Twitter and take a look at our posts on Instagram to keep up to date with the most recent event information about tickets, pop-up announcements and some all-round vegan fashion and beauty fun.