Top 10 Vegan boots for winter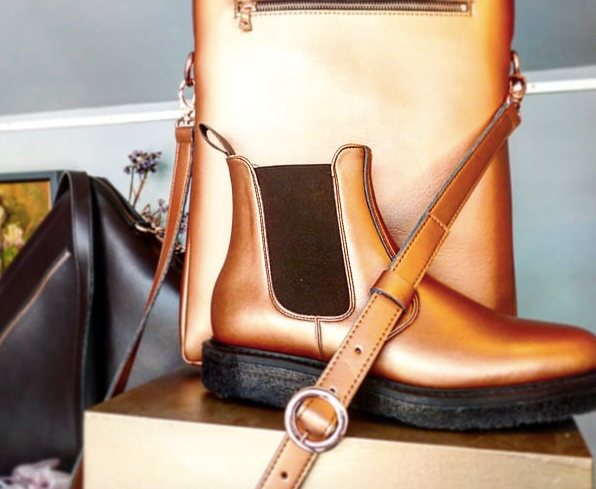 This winter season is proving to be yet another season full of turbulent weather that can't quite seem to make its mind up. From heavy rain, to glittery sun and frosty mornings. No matter the weather we have our top 10 favourite vegan boots made for walking in this autumn / winter weather.
These gorgeously coloured short heeled boots are the perfect shoe to glam up any outfit. From a skinny jean look to a pretty dress and tights, these lovely nude coloured boots are the perfect in between heel size to take you from the office to out on the town with the girls. Handcrafted in Italy, PETA approved and waterproof - could these be the perfect accompaniment to your office Christmas party?
RRP €290 - Shop here
https://www.instagram.com/p/BolUqJ9D5re/
And here are the most beautiful vegan copper boots you will ever see - you're welcome! Perfect for day-to-day and a casual showstopper, the shoes are sure to catch some attention and create a statement look for any fashion conscious boot lover! In smooth Italian vegan grain leather with welted crepe soles, these boots will make each passer-by as jealous as the next.
RRP £180 - Shop here
https://www.instagram.com/p/BlFZ7c4gKbG/
For lovers of a higher heel, these faux suede boots should be added to your Christmas list straight away! In the most beautiful navy colour, these chunky heeled boots are elegant yet glamorous and environmentally friendly. A match made in heaven for any eco-conscious fashionista.
RRP £115 - Shop here
https://www.instagram.com/p/BnOqjhAgAUU/
Now these bad boys are your best friend when it comes to cold, wet weather gear for this season. With the added thermal lining inside the boots and high shine finish, they are sure to keep your toes warm and dry in this classic UK weather!
RRP £120 - Shop here
https://www.instagram.com/p/BpPLWjvAQEG/
Looking for a classic black Chelsea boot? These could be the ones for you! These vegan low heeled boots are bound to go well with anything you wear this season. This wardrobe staple is in a truly sustainable style which will never be outdated.
RRP £165 - Shop here
https://www.instagram.com/p/BpEzwJCgsfh/
And how could we list our Top 10 favourite vegan leather boots without a pair of vegan Dr. Martens? We've particularly fallen in love with these metallic red pair which are sure to be a winner all year round.
RRP £115 - Shop here
https://www.instagram.com/p/BoenNPCDiqX/
Now these pull-on over the knee boots are sure to make an entrance at any festive party! Finished with a super feminine and delicate ribbon at the back of each boot, adding extra sexiness to your look. Beautifully hand made in Spain from breathable vegan faux-suede and currently sold out online, you can see why these boots are as popular as they are.
RRP £145 - Shop here
https://www.instagram.com/p/BndTqacAjLM/
These chunky bottle green boots will add an edge to any outfit you wear. We'd love to pair these with a floral midi skirt and chunky knit jumper for a cool and pretty look this autumn and winter. The high shine faux leather with lace-up detailing and adjustable ankle buckle are a match made in heaven and will keep your feet comfy and dry in the wet weather.
RRP £148 - Shop here
https://www.instagram.com/p/BpnCrT5FlFF/
Made from ecological and water resistant microfiber, these boots are winter weather proof, stylish and available in black, blue and red. The front zipper design on these boots sets them apart from others.
https://www.instagram.com/p/Bn09GJGA3J7/
Are these the most autumnal boot of them all? These faux suede orange boots are a fail safe for this autumn with the gorgeous orange colour adding a pop of colour in an otherwise grey winter season. With padded insoles for extra comfort these boots will also keep you comfy on your chilly winter walks.
RRP £150 - Shop here
https://www.instagram.com/p/Bo_B15IFX6U/
Loving this list? Sign-up here to hear more about vegan fashion and beauty and be the first to hear about ticket releases for our next event…