Christmas Cruelty-Free Fashion gifts for her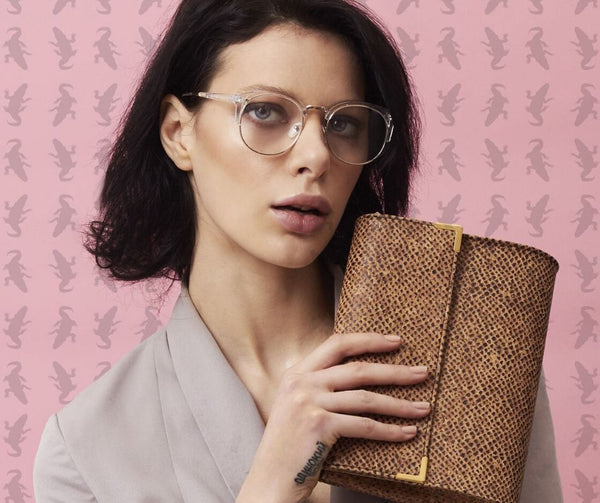 December is finally upon us and that can only mean one thing... an onslaught of panic as you realise you only have a finite number of days to get your Christmas shopping done. Well, don't get your knickers in a twist just yet. At Bare Fashion we know how important it is to find the perfect present for the stylish vegan women in your life, so we've compiled a handy list to help you find the best cruelty-free fashion gift possible.
V By Townsley Eden Tote Bag - £350
We start our list with a bag that oozes chic style, it's clean lines and a classic shape making it the perfect office accessory. Handmade by Italian craftsman, the bag is made from 100% vegan leather, with a faux suede lining for a touch of added luxury.
Womsh Vegan Wave White Rose - £165
These are perfect for the vegan girl on the go. You'd never guess, but they're made from Appleskin, which is 100% waterproof and cruelty-free! Fresh, sustainable and a practical ideal for any capsule wardrobe.
Dauntless Star Biker Jacket - £285
Looking for something casual to wear out on New Year's Eve? This vegan leather jacket is embellished with glimmering star studs, cut in a jaunty silhouette and lined with silky charmeuse for extra comfort.
Ethical Outfitters Ethical Vegan Sweatshirt - £35
Stay cosy, stylish and spread the vegan love this Christmas with this classic sweatshirt. Made from ringspun cotton, it's designed to be durable, yet stay super soft wash after wash.
Blanlac Edelweiss Shoes - £250
These glittering shoes are sure to add a touch of elegance to any outfit, with a toes that draw to delicate points and slim stiletto heals. Given the highest rating from Animal Free Fashion and PETA-approved, Edelweiss are made from black eco alter nappa— a leather substitute derived from polyester and polyurethane — and are handcrafted in Italy.
M&S Soft Touch Wrap Coat - £59
Brace yourself against the winter winds with this sophisticated wrap coat. The sash belt, statement seams and button-trimmed funnel neck give the piece a distinct, tailored look.
Vrockskin Alligator Strait Clutch - £110
We know what you're thinking. Alligator skin? How can that possibly be vegan? Don't worry, Wilby have crafted this clutch from cork in a deceptively clever pattern that is sure to fool even the keenest of eyes.
People Tree Lace Trim Triangle Bra - £22
This bra is made from extremely breathable organic fair trade cotton, ensuring comfort that'll last all day. With a pretty lace trim, adjustable straps and a double clip fastening, this is a bra is sure to bring spine-straightening confidence to any outfit.
Stella McCartney Lace-up Boots - £725
Want to really treat your nearest and dearest this Christmas? You can't go wrong with a bit of Stella, and these chunky, lace-up boots are sure to impress. Their bold, platform style and thick heel are sure to make them the statement piece of any outfit.
Emma Aitchison Plunge Necklace - £61
With ripples and waves cresting along all sides of this minimalist pendant, you can see how the piece got it's water-evocative name. Intent on keeping its carbon footprint on the smaller side, the necklace is made in the UK from recycled silver and is sent to you in recycled packaging.
Sign-up here to hear more about vegan fashion and beauty and be the first to hear about ticket releases for our next event…