The ultimate guide to vegan makeup and beauty brands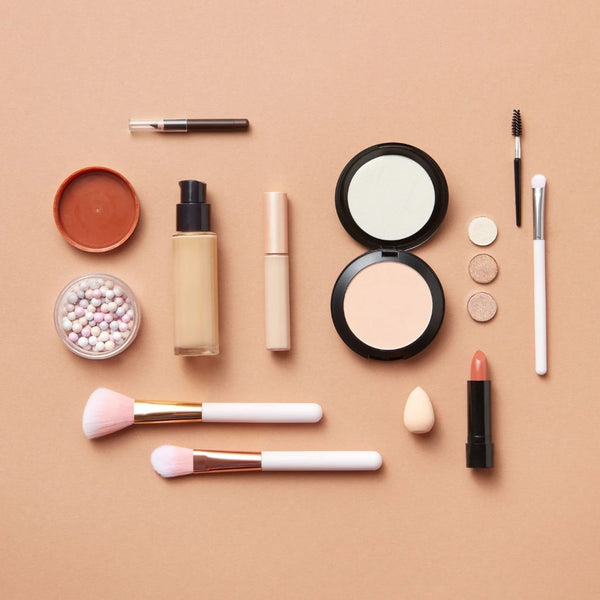 Cutting all animal products from meals is certainly admirable, and by no means an easy feat for some, but it's just as important to look at the clothes in your wardrobe, the potions and lotions in your bathroom, and the beauty products in your makeup bag.
The latter can especially seem like a mammoth task so we've put together our mini guide on the vegan makeup and beauty scene and how to find those products that will work for your lifestyle.

How do I know my favourite beauty product is vegan?
The easiest way to find out if a beauty product is vegan-friendly is to look out for the Vegan Society trademark. It certifies that each product labelled has been checked by experts to ensure it contains no animal ingredients and that it has not been tested on animals.

In the UK and Europe, all beauty products are no longer tested on animals, however, beware those big beauty brands such as Dior or Benefit who sell in China. To pass requirements over there, they have to be tested on animals. Use PETA's search tool to ensure that the product you're buying is 100% cruelty-free.
Alternatively, look out for the Leaping Bunny logo. This is the internationally recognised symbol guaranteeing that no animal testing was carried out in developing the product, however, it does not mean that any item carrying the label is free of animal products.
The beauty ingredients to avoid
These are just some of the animal products you might find in your beauty, skincare or makeup:
Albumin: Found in egg white, which is often used in products to help tighten the skin.
Allantoin: Used for it's soothing and moisturising properties, some allantoin comes from cow urine. Thankfully though, this ingredient can be created synethtically or produced from plants such as comfrey or chamomile so double check the source on this one to be sure.
Ambergris: This very rare ingredient is made from whale vomit - euck! It's used in many perfumes.
Beeswax: Used to increase the thickness of products such as lipstick and also as an emulsifier. Can also be used as a barrier in balms.
Carmine: This is a natural red color that comes from the dried female cochineal beetle, which can be used to colour lipsticks and other makeup.

Collagen: Used in a huge variety of beauty and makeup products, most collagen comes from animal sources, such as beef or fish. However, breakthroughs do mean that there is such a thing as vegan collagen, made by using genetically modified yeast and bacteria.
Dairy: Milk, whey and casein are often found in hair and beauty products, used for the softening abilities.
Gelatin: Used to improve texture, gelatin comes from cow or pig bones, tendons or ligaments. Thankfully less beauty companies are using this now and finding other ways to thicken products.
Guanine: Found in crushed fish scales, this is used in most mascaras, nail polishes and lipsticks. Fish lips, yuck!
Honey: The sweet stuff is often used in skin care due to it the fact it contains amino acids, peptides, antioxidants, and is also a natural antibacterial.
Lanolin: A waxy substance derived from sheep, it's emollient, conditioning properties make it a popular ingredient in those products combating dry skin and hair, such a lip balms.
Placenta: A new trend in beauty sees the use of sheep organs in moisturisers and face makes.
Squalene: While this oil can come from olives, it's also often derived from shark's livers. It's used in skincare as it's a good moisturiser with antioxidant properties.
If you're not hundred per cent sure about an ingredient, Paula's Choice has a great ingredient directory which reveals what's in the ingredient and how it's used in products.
Are vegan products better for your skin?
Vegan cosmetics and beauty products contain a lot less ingredients than regular items, which makes them ideal for anyone with sensitive skin. It also means you're less likely to have a reaction to the products that you're using.
Add that to the fact it's also kinder to animals and the planet and it's a no brainer for us!
Our favourite vegan beauty brands
With all this in mind, here are a few of our favourite vegan makeup, skin and hair brands.
Best UK brand
A great vegan beauty brand based in Brighton, PHB Ethical Beauty is a family run business that makes beauty and makeup products that are 100% natural, vegan, cruelty free & palm oil free because they believe in better beauty for skin and our planet. The PHB stands for Pure Handmade British and you'll be spoilt for choice with the wide range on their site, including products made especially for mum and baby.

Their 5-star rated All-In-One Natural mascara gives volume and length, making it one of our favourite mascaras out there. Their Superfood skin care range is affordable yet effective and we love that their serum is so gentle it can be used on the face and eyes. And it doesn't stop there - there's hair products and body washes ensuring you can care for your body head to toe all in a cruelty-free, vegan fashion.

Best skincare brand
UpCircle was founded by siblings Will and Anna when they wondered if coffee grounds could be reused and made into something else. They began with a simple coffee scrub and have since diversified into a whole range of skin and body products that celebrate waste, are 100% vegan and cruelty-free.
Their sustainable brand also includes a return and refill scheme to help reduce waste further. With ranges for all skincare concerns from spots to wrinkles, their best-selling serum with coffee oil is fantastic on the skin, helping brighten and hydrate it.


Best haircare brand
While there's a fair few vegan-friendly shampoos and conditioners out there, Maria Nila's 100% vegan line contains everything you need to make your hair look spectacular from shampoo to styling spray. There are ranges for all hair types and their colour bombs are an animal-friendly way to freshen up your hair colour in-between salon visits.

All Maria Nila styling products are not only vegan, but also come in CO2 compensated packaging and are made with ingredients carefully selected by our chemists. Their salty mist is a must for that wavy beach look, while the cleansing powder gives oomph and hides those greasy roots!
Best budget brand
With prices starting at just £4, you'll be hard pressed to find a better budget vegan makeup and beauty brand than e.l.f. Though their prices are super cheap, they don't feel cheap on and the brand are known for their innovative approach to makeup like their putty range, which delivers highly pigmented colour in a putty to powder formulation.
They also have a great range of makeup brushes, all made from synthetic fibres, and while their skincare range may not be as wide as some their SPF30 sunscreen is hard to beat!

Most innovative makeup brand
trèStiQue have helped to break the boundaries of innovation by creating a new way to shop and customise your make-up with their "selfie snap" solution to get your personalised shade. As well as vegan, their products are totally clean and come free of parabens, phthalates, sulfates, PEGs, BHA, Gluten, fragrance, mineral oil, formaldehyde, triclosan/ tricarbon, among many other ingredients that are potentially hazardous.

Not only focused on ensuring they create cruelty-free vegan beauty products, trèStiQue are also innovating how their products are put together. Lipsticks come in a clever tube that also includes a balm, while the foundation comes with an inbuilt applicator. This makes it a light, easy to travel make-up that can fit into your busy everyday life whilst still looking absolutely fabulous. They also offer refills to help cut down on environmental waste.
>> Related blog: Vegan party makeup to make you shimmer and shine