Vans launches vegan shoe range to raise awareness of endangered species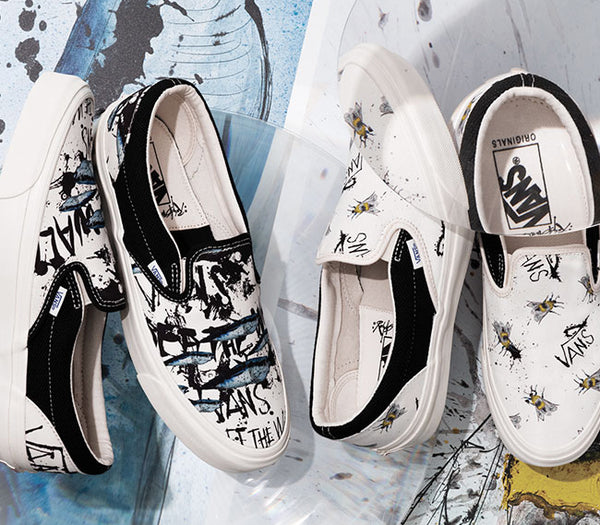 WildAid has partnered with Vault by Vans and legendary artist Ralph Steadman to raise awareness about animal endangerment and extinction.
Skatewear company Vans has teamed up with
WildAid
to raise awareness about animal endangerment and extinction by creating a range of eye-catching shoes featuring artwork legendary artist
Ralph Steadman.
The shoes and T-shirts in the range feature illustrations from "Gonzovationists" Ralph Steadman and Ceri Levy's published books,
Extinct Boids, Nextinction,
and
Critical Critters
, as an artful and expressive way of bringing awareness and attention to threatened species. There are eight stylish shoe designs to choose from featuring zebra, lion, bee, frog, fish, orangutan, whale and frog designs to bring awareness to the plight of these endangered animals.
The products are made using sustainable materials including organic cotton, FSC certified wood skateboard decks and are shipped in packaging made from 100% recycled materials. In addition to encouraging contributions through a donation-inspired exhibition, Vans will donate $10,000 towards WildAid to provide crucial support to end the illegal wildlife trade in our lifetimes, deliver comprehensive marine protection and reduce our collective environmental impact. "We hope these vivid depictions of the world's most imperilled species can help inspire the change we need to save them,"
said
WildAid CEO Peter Knights.
To check out the Vault by Vans x Ralph Steadman collection, please visit www.vans.com/vault/ralph-steadman.
Click HERE to get your tickets to Bare Fashion.
Image credit: Vans