Vegan Capsule Wardrobe for your 2020 Staycation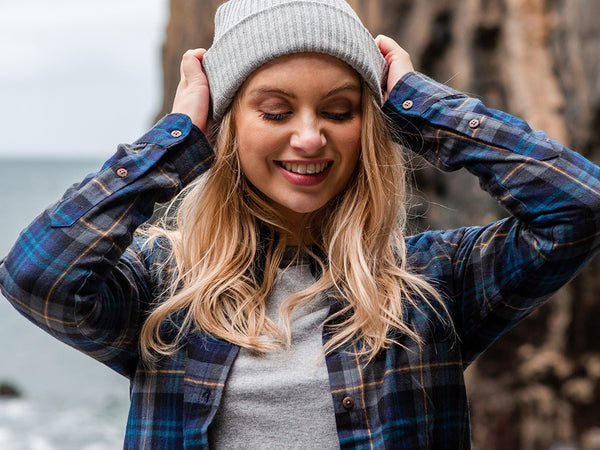 Holiday at Home!
We've put together a staycation vegan capsule wardrobe that will work wherever you choose to travel this summer!
Here in the UK, we're lucky to have so many staycation options right here on our doorstep, with over 40 million tourists visiting our little island in 2019 alone! While our trips abroad may have been put on hold for now, staying close to home for a vacation doesn't have to mean sacrificing the excitement of the holiday. You can still look forward to planning out your holiday outfits for all those picturesque photo ops!
Coastal
Staying near the coast is the best place to get that breath of fresh air we all desperately need right now. Enjoy sea views and rolling hills while you explore the UK's coastline, and discover the history of some of the oldest towns in the country, like Looe in Cornwall or Southerndown in South Wales. We love this relaxed organic cotton shirt dress from Mother of Pearl, a luxury sustainable brand focussing on "field to final product" transparency. Pair it with the soft Lake blue crossbody vegan leather bag by Matt & Nat, a Canadian brand best known for their commitment to vegan accessories since they launched in 1995.
Camping
Get back to nature and immerse yourself in the countryside with a camping trip. St Ives, Cornwall and Penzance are some of the top camping spots in the UK! Think cooking food over an open fire, switching off from the world of technology, and waking up with the sunrise. Opt for comfy, durable clothes, like these Veja canvas sneakers, now seen on the feet of many celebrities! Rapanui are based in the Isle of Wight and make all their clothes to order, meaning no unsold stock. Their blue check organic cotton flannel shirt would make a perfect cosy layer for a camping trip. Finish your outfit with a pair of navy dungarees, made with organic cotton by Komodo, an ethical fashion brand founded in 1988!
City break
Have a chic city break with your friends and enjoy the culture, nightlife and shopping on offer. We recommend London, Manchester and Bristol for the best vegan cities in the UK! Enjoy touring a new city and have fun visiting all the hot spots and top restaurants (check out Happy Cow to find all the vegan restaurants near you). The off-white two-strap asymmetric bodysuit from Jakelle Studios is made with bamboo and is the perfect top to add instant style to any outfit. Pair them with white organic cotton tailored trousers from Thought, a London-based sustainable online fashion brand. For the best vegan leather sandals, head to Collection & Co, a Bristol-based vegan shoe company specialising in high quality, cruelty-free footwear and accessories. We love their vegan leather AMA square toe mules in sage green by for a simple, classy evening look.
Beach town
Nothing beats a British beach getaway with walks along the pier, vintage shops, and chip dinners watching the sunset over the sea. Brighton, Falmouth and Appledore all offer beautiful beaches and lots to do – just pray for the sea to be warm! Wear a dress that works for the day and the evening, like this deep V maxi dress from Lemlem, made from Tencel and cotton. Lemlem are an Ethiopian fashion house set up to support the artisanal groups in the community. Pair the dress with these black sandals by Nae made of Piñatex, a vegan leather made from pineapple! Nae (No Animal Exploitation) specialise in using vegan alternatives, like organic cotton, cork and recycled PET, to make beautiful sandals, heels and sneakers.
Cabin in the woods
Escape to the wilderness and hideaway in a secluded cabin surrounded by beautiful forests. The Peak District, Cotswolds and Isle of Skye all have amazing cabin locations! Think cosy nights by the log fire, unwinding with a good book, and long walks through the great British woodlands. Relax in the khaki organic cotton jumpsuit from People Tree, a sustainable and ethical fashion house based in the UK, and pair with the black Nae sandals - if cabin-chic was a thing, this would definitely be it!
Stylist Tip!
Time to mix and match! 2 dresses, a flannel shirt, a pair of dungarees, a pair of trousers, a bodysuit, a jumpsuit, one handbag and three pairs of shoes. Add a few of your old favourite t's and it's time to mix and match. It's a cool evening so try those white trousers under your blue striped dress. Wear your flannel shirt over your jumpsuit. Try your bodysuit under your dungarees. It's all about building on what you have and acquiring a few key pieces that you love and make you feel good. Be your own stylist and don't be afraid to mix and match!
Article by Fashion Contributor Sarah King - A vegan fashion activist and forest walker. You might know her for her blog Grandermarnier