Vegan faux fur company to donate Valentine's Day proceeds to PETA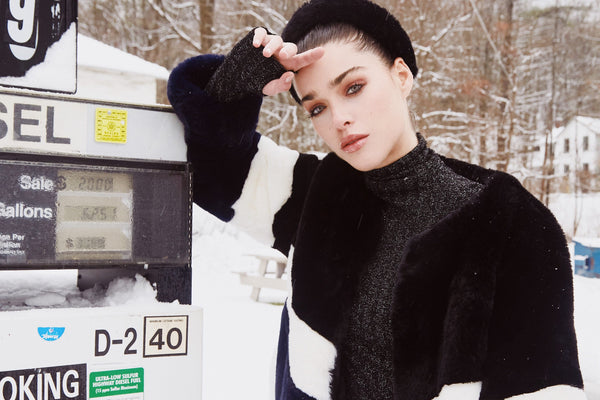 The most romantic day of the year is fast approaching and companies everywhere are frantically trying to peddle heart-shaped goods, elaborate bouquets and rich-to-the-point-of-sickly boxes of chocolates to capitalise on a celebration of love.
Not all companies though. APPARIS are using Valentine's Day as an excuse to spread the animal rights love by donating 100% of the proceeds
from their website
on 14 February directly to PETA. PETA Executive Vice President Tracy Reiman said: "This Valentine's Day, APPARIS is showing a little extra love to animals by generously supporting PETA's work. While some cold-hearted designers are still killing rabbits and coyotes, APPARIS' beautiful faux-fur coats are pushing the vegan fashion revolution forward."
For the collaborative campaign, APPARIS is featuring some fresh faces in the fashion industry: rescue dogs. Of the campaign, APPARIS co-founders Amélie Brick and Lauren Nouchi said: "Combining these two things to celebrate the day of love was a no-brainer. We selected the Manon style in Rouge (the colour of love) as it's the perfect cruelty-free coat to make a bold V-Day statement. We're obsessed with all furry animals – especially dogs. Their personalities are bold and vibrant, and their coats are warm and cuddly, exactly like our beyond-faux furs."
This collaboration between APPARIS and PETA is a natural fit, as they share a combined passion for the ethical treatment for the ethical treatment of animals. APPARIS is helping pave the way for positive change in the fashion industry. The brand was co-founded by Amélie Brick and Lauren Nouchi after witnessing the unethical treatment of animals in their respective careers in luxury fashion. They've committed themselves to making a bold statement: vegan fashion at an accessible price point can happen without compromising style and quality.
Sign-up here to hear more about vegan fashion and beauty and be the first to hear about ticket releases for our next event…