Vegan mother and baby skincare range launching in Boots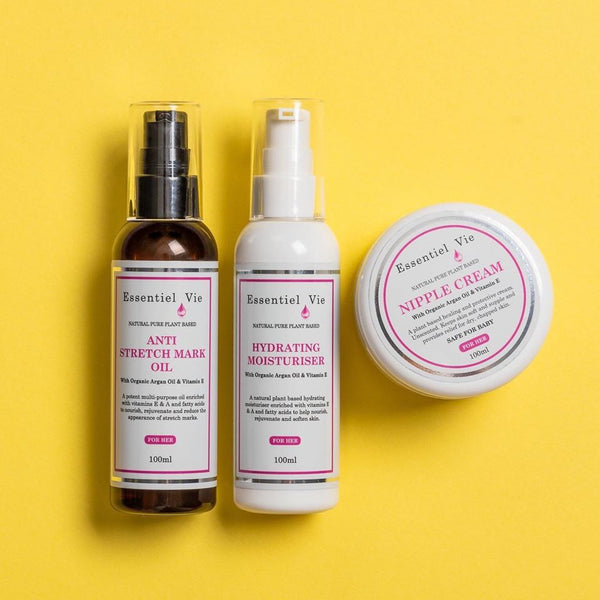 Pregnancy, like veganism, is a full-time commitment but there are surprisingly few vegan beauty products to help combat the impact of pregnancy on a mother's skin.
The new British skincare range Essentiel Vie is setting out to change that, with a full range of affordable, pregnancy-safe, plant-based products.
Essentiel Vie exists thanks to the hard work of Asal Shirazi BEM. As an experienced aromatherapist and a skincare practitioner, Asal put her extensive knowledge of skincare to the test when developing the new product range that works for both babies and mothers. Essentiel Vie products are gentle enough to suit a newborn's delicate skin, as well as caring and repairing the impact of pregnancy on a mother's skin. Each product in the Essentiel Vie catalogue is certified vegan and has been approved and recommended by Harley Street Consultant and Fellow at the Royal College of Obstetricians & Gynaecologists London, Dr Nadia Yousri. Dr Yousri had previously undertaken extensive research into the effect of chemicals on skin during pregnancy and the impact on the foetus, concluding that there was a limited choice of products on the market that would work just as well for both mothers and babies. The jewel of this new vegan collection is the Essentiel Vie Nipple Cream - a delicate blend of all-natural, plant-based oils and moisturising agents that works to repair chapped and painful nipples without irritating a new born's tender mouth throughout breastfeeding. The cream is a delicate blend of cupuacu butter, olus oil — a natural barrier that keeps skin moist — shea butter, Argan oil, and Vitamin E.
Other items in the collection include the Essentiel Vie Anti-Stretch Mark Oil and the Essentiel Vie Hydrating Moisturiser. Each is packed with Vitamin E-rich plant oils and Omega fatty acids, ensuring they're mild enough for sensitive skin whilst being powerful and effective. On creating the groundbreaking collection, Asal Shirazi said, "Essentiel Vie is a labour of love that emerged from my own research into the effects of chemicals on the skin in pregnancy. Pregnancy hormones can wreak havoc on a mother's skin, but the impact on baby must be considered as new born skin is so very delicate." "I was quite surprised to discover that mums didn't have a great deal of choice when it came to 'safe' products. It was with this in mind that I developed Essentiel Vie as a plant-based, Vegan-certified, cruelty-free product range that was free from chemicals and used only the highest quality ingredients." The whole range is now available in Boots stores and in their
online store
.
Sign-up here to hear more about vegan fashion and beauty and be the first to hear about ticket releases for our next event…
*this article contains affiliate links