Veganuary 2020: A Bare Fashion Guide to Vegan Fitness Wear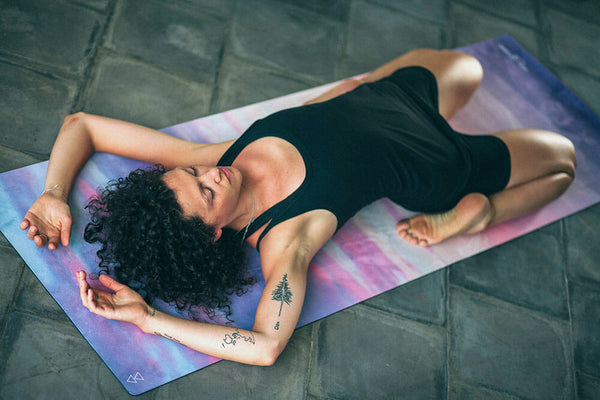 Hello new year, hello new you. It's the time of year when we all pledge to do more yoga, more running, and renew those dusty gym memberships. The team at Bare Fashion fully support the new year's fitness kick, so we've complied a handy list of vegan fitness wear and accessories to give you a helping hand.
Yoga, Pilates, Barre, Tai Chi... whatever low impact sport you're doing, you want to be in something comfortable and breathable. This seamless crop top provides support, reduces the possibility of chaffing and is great for managing sweat and stickiness. How does it manage to do all this? Why, it's made from bamboo of course, one of the most durable and renewable materials used in eco-fitness wear.
Maybe instead of hitting the gym, you're planning on turning out a few hundred laps in the pool. BATOKO is a company based in the North West that makes eye-popping, quality swimwear from 100% recycled plastic waste. At the time of writing this article, they've recycled the equivalent weight of 300,000 plastic bottles into swimwear, keeping the non-biodegradable plastics out of our oceans and as far away from precious and protected marine life as possible.
When it comes to saving the planet, arguably reusing goods and materials is just as important as recycling them – if not more so! Chilly's designs sleek, infinitely reusable water bottles; the perfect addition to any gym bag. What's more, if you buy one of Chilly's Refill campaign bottles, Chilly's will give £10 to City to Sea to help them continue their fantastic work protecting our oceans.
Running for exercise is hard enough as it is but running in winter presents it's own unique set of challenges – frost, black ice and only a few light hours in the day to get through your desired route. One of the biggest deterrents can also be the plummeting temperatures, but Alternative Apparel have designed a gorgeous lightweight hoodie to help keep your body heat in. Made from organic and recycled materials, it's the perfect outer layer to pound the pavement in.
Looking to get your downward dog on in 2020? We'd recommend checking out the lovely girls at Planet Warrior and their amazing collection of yoga wear made from recycled plastic bottles. Their leggings are designed in a high-waisted fit to maximise comfort and to stop them from slipping and sliding around when you're doing your Insta-ready headstands.
Lots of people think that the biggest challenge of a vegan diet is getting enough protein. They're wrong of course, getting the right amount of protein is as easy as eating a handful of nuts. But finding vegan-friendly protein powder... that can be a little difficult. However the folks at Form Nutrition have figured out the perfect recipe, designed specifically to enhance your performance during workouts through energy-boosting ingredients. Just mix a couple of spoonfuls into some almond milk and you're good to go.
Thinking about getting back on your bike this year? Vegan Athletic have designed this sleek, short sleeved Jersey from a specialised mesh fabric made from recycled materials. The cut and shape of it maximise it's aerodynamic properties whilst allowing heat out of the sleeves. You'll never overheat on a hill again!
These plant-based, petroleum-free trainers are fashioned to be as lightweight as possible. Built with breathable mesh panels and crafted from a high performance foam made out of algae biomass, every inch of their design has been carefully calculated to not only improve your running and exercise experience, but also to minimise their impact on the environment.
Looking to spread the plant-based love? This PETA-approved racerback tank is made from super soft bamboo and organic cotton, designed to keep you comfortable throughout the course of your workout, whether you're running, hiking, taking a spin class, or doing an 80's style aerobics video from the comfort of your own home.
Your fellow yogis will turn green with envy when you show up to your studio with one of these gorgeous mats. Made from biodegradable and recyclable natural tree rubber and water based inks, the Yoga Design Lab mats are supplemented with extra cushion and responsive grip, which work tirelessly to prevent slipping and to reduce the potential of injuries.
Tilda Howard
Sign-up here to hear more about vegan fashion and beauty and be the first to hear about ticket releases for our next event…