Veganuary 2020: The Bare Fashion Guide to Vegan Skincare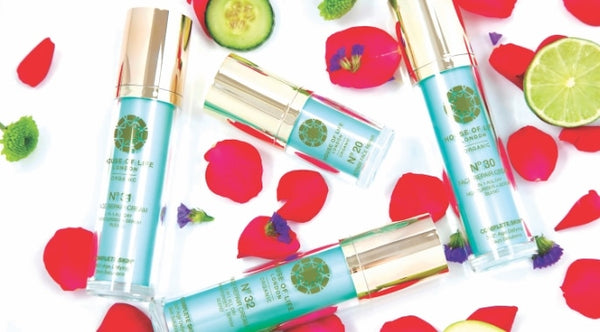 The third of our Veganuary Guides—alongside our vegan shoe guide and vegan makeup guide—explores the wonderful range of vegan skincare products now available at both major high street retailers and popular online sites.
Debenhams
There is something very enjoyable, as a vegan, to be given a choice to easily filter out non-vegan products on a major retailer site. Debenhams have done that just for us so you can choose vegan options under 'ingredient preferences'. There's something very empowering at be able to easily go through a list of skin care products not needing to read the small print to discover it's not vegan friendly!
Ren Skincare
Focused on creating products with non-irritative, sustainably sourced ingredients, being 'clean' is at the heart of what Ren do. Ren also take their 'clean' mantra one step further using sustainable packaging and pledging to become fully zero waste by 2021. Ren have created a range for all skin types to ensure there is something for everyone whether you have oily skin, sensitive skin, or are looking for an anti-ageing solution. All Ren's products are cruelty-free and there is a wide range of vegan options available clearly marked on the brand image when browsing.
Skyn Iceland
Skyn Iceland have focused their efforts on a skincare solution to help treat the damage caused by stress using the natural resources found in Iceland. They've been able to successfully develop a skincare range that soothes, stabilises, fortifies and nourishes skin, so that it can be brought back into its glowing state negating the impact of stress on the skin. Just to ensure that you're definitely free of all stress, their products are completely cruelty free and certified vegan. Check out their range of lotions, masks and more to find a range that suits you.
RELEVA
RELEVA have created a clean and natural pain relief cream to help target aching joints and muscles. Containing not pharmaceutical products and no alcohol, the cream is both vegan friendly and completely cruelty free. The cream helps to relieve both arthritic and rheumatic pain as well as easing repetitive strain injury. Athletes have also used the RELEVA create to help them prepare for rigorous exercise and afterwards to help with muscle recovery.
House of Life
House of Life set out to enhance people's wellbeing and health from the outside in by using innovative methods with natural and organic anti-ageing solutions. Their ingredients are 100% natural, handpicked and locally sourced by House of Life. By utilising a wide range of superfoods and herbs for their ingredients, House of Life is able to harness their natural properties without needing to add harsh or harmful chemicals. Taking into account the various skin types there are a range of choices so that you can find the perfect complement to your skin. At the time of writing almost all the House of Life products are vegan, note that no 30, 31, 32 contain beeswax (cera alba) and are the only non-vegan products in the selection.
Jo Thorne
Sign-up here to hear more about vegan fashion and beauty and be the first to hear about ticket releases for our next event…