10 tips on how to have a Micro Wedding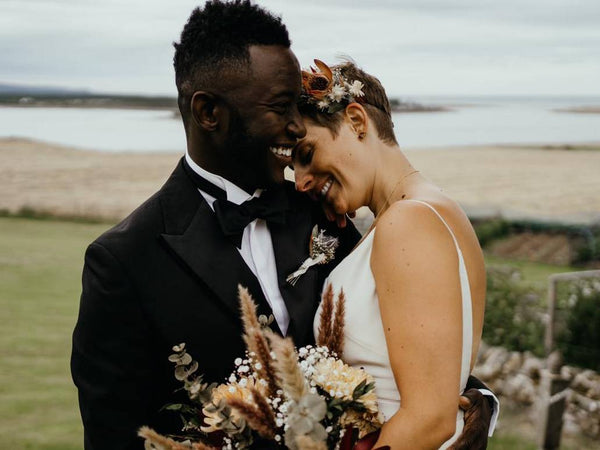 Wedding do's and don'ts from wedding dress designer Sabina Motasem who recently got married and had a beautiful joyful zoom wedding.
Looking for a wedding dress just got harder for Covid-era brides. Brides who are planning weddings for 15 people are not the same as the brides who are planning weddings with a 150 guests. As a wedding dress designer, who managed to get married in a beautiful small and intimate wedding in September, with many of our brides opting to do the same or post-poning their big day, I'm only too familiar with what brides are needing right now.
There are fewer brides who are able to commit to a dress with long-lead times. Brides need dresses with much shorter timescales. They need something now, something budget friendly and perhaps something adaptable for a second ceremony too with government rules are changing regularly.
1. Don't go for a bespoke made-to-measure dress if you don't have a lot of time to plan a wedding and if you've got a less of a budget choose a sample or a ready-to-wear dress.
If you don't have a lot of time, choose a dress that's available now, is in stock or has short lead times. Many brides may find they suddenly have a smaller budget to get married in this ever-changing world. We created our ready-to-wear range, The Green Collection, of sustainable luxe dresses at affordable prices.
Find bridal designers who have short lead times and ask bridal boutiques for what samples they have looking for beautiful homes. Strapless dresses are the dresses that require the most alterations, so make it easier for yourself and choose a dress that fits really well, especially if you have just a matter of weeks to find a dress. Go for a slinkier bias-cut dress that would look timeless and much easier to fit. 
Stock versatile accessories, like beautiful hair pins and shoe clips which can create looks without costing more and perfect for two different events
Hair pins can be clustered together to create the illusion of a larger head piece or worn spaced apart for a more delicate look. This can be very useful for a bride who may be planning for two very different events. having a number of hair trials. Or who might be doing her own hair on the day and much more budget friendly. Kelly Spence has a great selection of hair pins.
Create lovely memories with your groom or your chief bridesmaid at experiences like 'Make Your Wedding Ring', jewellery workshops or florist workshops to make a flower crown.
Find creative experiences and involve your bridal party or do something extra special with your partner. Marcia is running the Mindful Jewellery Making Workshop at her Dalston studio on Shacklewell Lane in London. Numbers are restricted to just two people and the cost of the silver is included in the price of £150. You get to make a ring and a pendant. Other places in London who offer similar workshops are Heather Stephens, Orla James, DC Jewellery and the Wedding Ring workshop.  
Make the surroundings as special as possible with a floral arch, dried flower hangings and displays, fairy lights and quirky furniture.
If you have a zoom station, where other family and friends can join you virtually, it'll look lovely on the screen, and your photographer can get some amazing pics. Pictured below is a Amazing florists to check out are Terrace London, Botanique Workshop, Wild About Flowers and Bluesky Flowers. 
Pamper yourself in the lead up to the wedding, take time for grooming and relaxation.
Planning a wedding is stressful enough as it is compared planning one that fits with all these changing restrictions and fewer numbers. Your nerves and excitement will be amplified. Take time to indulge in relaxation and feel good things, so you're nice and calm before your big day. Do a little spa day ahead of the wedding and take lots of treatments.
Don't over-complicate things, keep things simple, it's the special moments that count.
Anything you can do to make things easier so things go smoothly on the day, do it. Whatever the size of your wedding, in the lead up to your wedding, all your emotions and nerves will be amplified, don't give yourself more things to worry about and ensure your day goes smoothly.
Make sure you book a great photographer in plenty enough time to capture those special moments, which you won't get a chance to take again.
Photographers get booked up in advance, so if there's a great photographer you'd love to book make sure you allow enough time to get the date that you want. Check if they can offer a 2-hour package for your wedding and engagement shoots which helps you to get used to the camera. Many photographers have special elopement and micro wedding packages you can go for. When you get to do it all over again with your friends you can book the same photographer, so that all the pics have the same look and feel. 
Everyone Loves Vegan Cake
Whether you choose to be adventurous and bake your own lemon and elderflower, Vegan Life Mag has some great recipes for wedding cakes or order your own custom cake from Vida Bakery everyone loves a vegan cake.
Choose a dress that you feel comfortable and feels like you.
Ignore everyone else and listen to your gut and choose a dress that in twenty years time you can look back on your wedding pics and think that you looked and felt the best on your wedding day. The right dress is the one that you can automatically imagine getting ready in, and styling, a little bit like finding the right man! Its got to feel instinctively like you.
DON'T choose bridal shoes that have a stiletto if your wedding is outside on the grass and especially if you're not used to wearing heels.
Go for a block heel or ones with a mother of pearl heel that can be easily wiped clean and hardwearing. Cult brand Beyond Skin has a really great selection of shoes. They're so practical and will last forever.
Enjoy Enjoy Enjoy!