Wu-Tang Clan launches vegan jacket made from recycled ocean plastic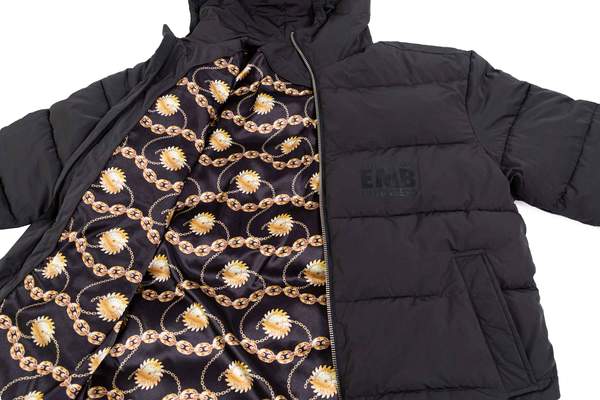 Wu-Tang Clan's RZA has lived an active vegan lifestyle for a while now and his fashion brand 36 Chambers reflects that. Just a month ago, PETA-approved vegan wallets made from banana leaves were introduced to the online store.
Now he's launching The Flying Guillotine Puffer Jacket - a limited-edition vegan puffer jacket made with recycled plastic bottles collected from the ocean. Though it presents in a 90's-esque style, the materials used to craft the jacket have been updated for the contemporary, eco-conscious consumer. Instead of using geese down, this jacket is made with a filling of recycled plastic ocean waste. The coat features a vibrant, patterned lining made from 100% recycled polyester, and the hood is emblazoned with the words 'Our Heads No Longer Belong to Us', a line from the Taiwanese film
Master of the Flying Guillotine.
Brought together by PETA, 36 Chambers partnered with German contemporary vegan outerwear brand Embassy of Bricks to create the jacket. As it's a special limited edition, only 100 jackets are available for purchase! 15% of all profits will go to PETA to help continue their advocacy work for animal rights. On introducing more vegan items to his lifestyle store, RZA said: "As we evolve as a people through technology and ingenuity, we have the ability through humane ways to fashion garments that not only serve our purpose but also, more importantly, abandon the unnecessary cruelty to animals." PETA Executive Vice President Tracy Reiman also said that: "While down items harm animals and the planet, this warm, trendy vegan coat made with 100 percent recycled ocean plastic will help PETA save animals." "The Flying Guillotine Puffer Jacket is the perfect choice for anyone who wants to wear their heart on their sleeve this winter."
Sign-up here to hear more about vegan fashion and beauty and be the first to hear about ticket releases for our next event…