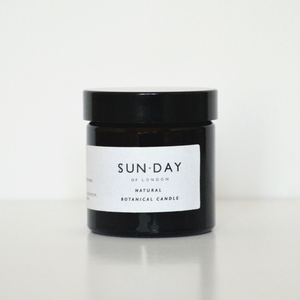 Size: 60ml (Mini)
Handcrafted botanical candle from SUN.DAY of London.
Midnight somewhere invokes an individual feeling for everyone. The subtle hints of lavender and rose may transport you to the splendour of France, dusk, a candlelit dinner in a sumptuous rose garden surrounded by fields of lavender. Find out where Midnight (somewhere) takes you.
The undertones of floral lavender with the sweet yet slightly bitter qualities of orange peel and rose geranium create an addictive aromatherapy fragrance you won't be able to pull away from. This incredible blend of five essential oils is designed to bring peace and tranquillity to both the mind and body.
Three times scented with only aromatherapy grade pure essential oils, in a blend of creamy coconut wax and gmo-free plant wax, with a 100% pure cotton wick. Always handcrafted in small batches, never any palm oil and never any synthetic perfumes or components.