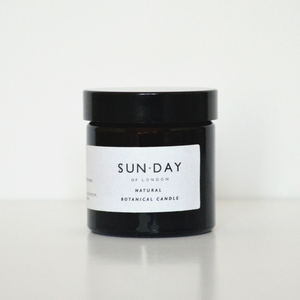 Size: 60ml (Mini)
Handcrafted botanical candle from SUN.DAY of London that brings an ethereal sense of balance and tranquillity to your home, harnessing the essence of nature that can often get lost within a busy lifestyle. All the products are also environmentally friendly and vegan. The candles are handcrafted and housed in apothecary jars, which are produced in the UK. Additionally, GMO-free coconut and palm-free plant waxes are used, as well as pure cotton wicks and generous doses of uniquely formulated aromatherapy-grade, essential oil blends.
Sous les Couvertures; we all experience those lazy mornings, where all we want to be is under the covers, embraced, warm and relaxed.  Sous les Couvertures aims to capture that enveloping warmth and comforting moment between waking and sleeping.
With a soothing, musky vanilla base that imbues tranquility, with peppermint and citrus in the background to gently awaken the senses, you're given a truly immersing experience. This carefully prepared blend of aromatherapy oils creates a luxurious scent to fill your home and transport you into the world found at the edges of sleep.