90-year old internet sensation Baddie Winkle has launched a vegan cosmetics range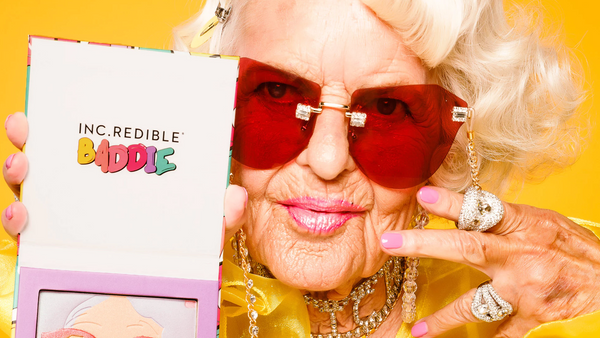 The world's most colourful pensioner, Baddie Winkle, has just launched her own beauty collection for INC.redible Cosmetics. 
Internet sensation Baddie Winkle, or Helen Ruth Elam Van Winkle as she was born, found fame after her great-granddaughter shared a photo of her sunbathing in an eclectic outfit (cut-off denim shorts, a rainbow tie-dye T-shirt and socks with a neon-pink marijuana leaf print), and quickly amassed a following over nearly 4 million people on Instagram.
The vibrant influencer, who is known for her love for bright, neon colours and her own unique style is breaking into the world of beauty and she has teamed up with INC.redible Cosmetics to create a range of incredible beauty products that feature the badass grandma's signature bright style. The beauty line, which is both vegan and cruelty-free, is inspired by Baddie's positive outlook on life and her desire to brighten up anyone's day.
In a press release, Winkle said: "If somebody judges me on how I look or what I do, then believe me I just ramp up my rainbow. Rule number one take pride in you."
The affordable beauty range is so far comprised of three fabulous products, all of which retail at under $20, includes a '90s-inspired strawberry-scented rollerball lip gloss, a highlighter emblazoned with Baddie's face, and just what everyone needs - a rainbow-coloured boob sheet mask packed with vitamin C for perky breasts.
In addition to launching this bright and colourful collection, INC.redible is donating 5% of the Baddie Winkle Collection's sales to LGBTQ+ youth at the Trevor Project to continue providing crisis prevention services for queer people under 25.
The collection is offered exclusively in Sephora stores and on Sephora.com in the US and will be available at nailsinc.com from 6th June in the UK.
>> Related blog: The best vegan red lipsticks to wear now